This is a genuine Electrolux element (who are the manufacturers of chef, simpson westinghouse and AEG) The element itself is made by 'EGO', and bears ego part number 12.88483.103 (large) and 12.84483.103 (small) It has a low profile Chrome trim attached which is 5mm tall. The element has 2 spade terminals which the wires clip onto.
Fits many stoves including Chef, Simpson, Westinghouse, whirlpool, etc
Small: 1500w 6" 0122004563. $93.50
Large: 2000W 8" 0122004564. $97.90.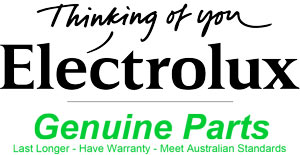 Suits the following models (we suggest you type your model into the search box on the top right hand side of the screen rather than searching through this list)
EHC613S, EHC613W, EHC814W, 64G354S, 64G354W, PHL365W*32, PHL255K*00, PHL255S*00, PHL255W*00, EHC614S*31, EHC614W*31, EHC614W*32, PHL365K*00, PHL365W*00, PHL365W*45, EHC914W*31, EHC914W*32, 64F354S, 64F354W, EHC913W, PHK255K, PHK255S, PHK255W, 64H354S*45, 64H354W*45, PHL255S*45, PHL255W*45, 64H354S*31, 64H354W*31, 64H354W*32, PHL365W831, EHC914W*45, PHL255W*32, 64G825W, EHC614S*45, EHC614W*45, PHL255S*31, PHL255W*31, 64F825W, PHP255S, PHP255W, EHC614S, EHC614W, 64H354S, 64H354W, EBC5451*43, EBC5211W*43, EBC5231W*43, PAK520W*32, PAK144W*32, PAK501RS*32, EBC5451W832, EBC5271*43, PAK144W*05, PAK501RS*05, PAK520W*52, PAK144W*52, PAK501RS*52, PAK520W*05, EBC5451W*36, EBC5451W*40, EBC5211W*36, EBC5231W*36, EBC5211W832, EBC5231W832, EBC5271W*53, PAK520W*35, PEK1350W-L*40, PEK1350W-R*40, EBC5271W*35, PEK1350W-L*53, PEK1350W-R*53, PEK1350W-L*52, PEK1350W-R*52, PEK1350W-L*32, PEK1350W-R*32, PEK1350W-L, PEK1350W-R, PEK1350W-L*43, PEK1350W-R*43, EBC5271W*36, PAK144W835, PAK501RS*35, EBC5451W*35, EBC5211W*41, EBC5231W*41, EBC5271W*32, PAK144W*53, PAK501RS*53, PAK141W*52, PAK141W*53, PAK520W*53, EBC5211W*53, EBC5231W*53, EBC5451W*53, PAK141W, 64H354S*46, 64H354W*46, EHC614S*48, EHC614W*48, EHC914W*48, PHP255S*03, PHP255W*03