34628402 Wall Mounting Bracket - Hoover one piece
This is the Genuine Hoover bracket kit, so it fits without buckling the back of your dryer. No modification is required unlike some alternatives out there. This suits the majority of Hoover dryers.
May suit some Fisher and Paykel machines as well.
May be known by other part numbers including: 0030300200, 2920500, 460913, H0020103152B, H34628402, X_0020103152, 1940836, 1673991, 1548455, 1587537, 1587589, 1587136, 1588147, 1588036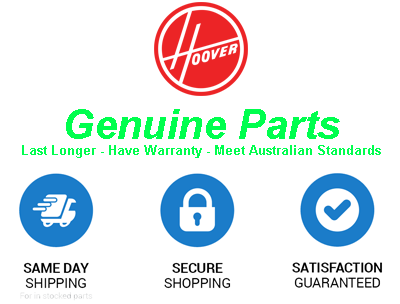 Suits Models: 5050EDE*00, LD515A*00, 5040EDB*02, 5050EDB*02, K505EDB*02, 3525DD*00, 3530DD*00, 5030DD*00, 3525DD*01, 3525DD*02, 3530DD*01, 3530DD*02, 5030DD*01, 5030DD*02, 3525DB*02, 3530DB*02, 5030DB*02, LD352A*00, LD353A*00, LD503A*00, 5040EDD*00, 5050EDD*00, 5050EDD*02, 5050EDD*01, 5040EDD*02, 5040EDD*01, 3525DE*00, 5030DE*00, 91600202700, 91600202701, 91600202800, 91600202801, 91600203100, SDV401, 91600208201, 91600200304, 91600200104, WDV5051, 91600208100, 91600200004, 91600206100, EDV6051, 91600206200, 91600200005, 91600200105, 91600200305, 91600206102, 91600206202, 91600200600, 91600100501, 91600200700, 91600100601, 91600200000, 91600200001, 91600200100, 91600200300, 91600200301, 91600200101, 91600200002, 91600200003, 91600200102, 91600200103, 91600200302, 91600200303, 91600200006, 91600200106, 91600200306, 91600206103, 91600206203, 91600206101, 91600206201, EDV5552, 91600208500, EDV6552, 91600208600, 91600208200, SDV501, 91600208300, SDV601, 91600208400, WDV6051, 91600209600, 91600208101, 91600208102, EDV5051, EDV6051 91600206200, EDV6051 91600206201, EDV605, LD505E, EDV605S, EDV6051 91600206203, EDV6051 91600206202, LD605EB*00, 39P400M, LD505EB*00, 39S500M, 39S600M, EDV505, 39S600M*00, LD605EB*01, LD605EB, 39S500M*00, LD505EB*01, LD505EB, 39S505EM*00, 39P400M*00, LD500B*00