Part Number 52858 Element Fan 2200W to suit St George Oven
Even though our photo still shows this as a 2-turn element, the 52858 is a 3 ring element.
St George phased out the 2-turn version (Part number 50970) because the thermal load was too high across the lower surface area for only 2 turns, which contributed to higher failure rates. Companies still offering a 2 turn version, 50970 are actually selling a cheap replacement sourced from China. We no longer sell the 2 turn element.
Items listed for Wall Ovens may be suitable for Upright stoves, Cooktops and Freestanding ranges.
Online Appliance Parts can supply a complete range of Genuine St George Spare Parts. If you can't find the spare part you are looking for, please contact us and we'll be happy to help you.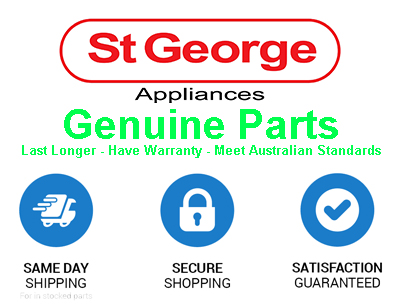 May be known by other part numbers, including: 10347, 50970H, FE-05, GB120000/S, TF74301
Suits St George Oven Models: WEOM9A, UEOM9AW, DEOM9A, DEO1A, UEO1A, DEO2A, UEO2A, UES2A, FED3B, FE904B, FE904BIS, FE904B2S, FE904C, FED4, UEO1B, UEO2B, DEO2B, DEO1B, UEEO1BS, UEEO1BW, UEEO1BB, UEEO2BS, UEEO2BW, UEEO2BB, FECOMBIWOK6, UES2B, DEOM9, WEOM9, WEOM9A1, 8500100P, 8500200PS, 8700100PS, 8700100LS,3130430,, 8700100RS, 8700200RS, 8600100PS, 8600200PS, 8800100S, 8800200S