528397HNAP Main Control Board PCB

CTR PH3.5 2HR FAN SVC NZ/AU
Control Board - Suits
Fisher and Paykel Dishdrawer Dishwasher
Models Beginning
DD603
DS603
Online Appliance parts can supply a complete range of replacement parts for Fisher and Paykel Appliances. If you are unsure whether this part is the correct one for your model, please email us. We're happy to help.
This part may not be returned once ordered. Printed Circuit Boards (PCBs) and other electronic components& are easily damaged by static electricity and other factors during the installation process. If you are in any doubt, Online Appliance Parts recommends you use a suitably qualified installer to install this item
Note: The display is minutes only. Kit includes metal control panel (not pictured).
May be known by other part numbers including:
521677, 526842HNAP, 527915HNAP, 1653637, 1653803, 1654051, 1548679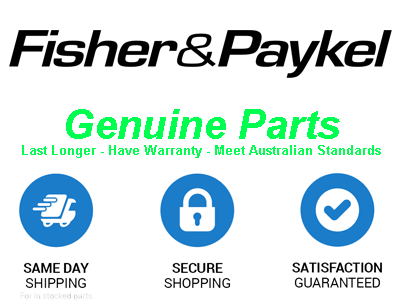 Suits Models: DD603 SS - 80009 - 80010 - 80014 - 80188 - 80188-B - 80199 - 80199-B - 80275 - 80275-B - 87769, DS603 SS (80014), DS603I (87773), DS603M (80282 SM), DD603I, DS603, DS603FD SS (80320-B), DD603 (80188 SS), DD603 (80009 SS), DD603 (87768 ZW), DD603 (87769 SS), DD603 (80191 ZW), DD603 (80188-B SS), DD603F (80319-B SS), DD603I (80192), DS603I, DD603M (80186 SM), DD603M (87822 SM), DS603MFD (80006), DS603M (80283), DS603 (80284 (DS603I FP AU)), DS603 ZW (87771), DS603 SS (80275-B), DS603 SS (80199), DS603 SS (80010), DS603M (87939), DS603I (80279), DS603 ZW (80278), DS603 SS (80275), DS603MFD (80197 SM), DS603M (87823 SM), DD603M (80005 SM), DD60S, DD603MFP, DD603, DD603I (87770), DS603 SS (80014), DS603I (87773), DS603M (80282 SM), DD603I, DS603, DS603FD SS (80320-B), DD603 (80188 SS), DD603 (80009 SS), DD603 (87768 ZW), DD603 (87769 SS), DD603 (80191 ZW), DD603 (80188-B SS), DD603F (80319-B SS), DD603I (80192), DS603I, DD603M (80186 SM), DD603M (87822 SM), DS603MFD (80006), DS603M (80283), DS603 (80284 (DS603I FP AU)), DS603 ZW (87771), DS603 SS (80275-B), DS603 SS (80199), DS603 SS (80010), DS603M (87939), DS603I (80279), DS603 ZW (80278), DS603 SS (80275), DS603MFD (80197 SM), DS603M (87823 SM), DD603M (80005 SM), DD60S, DD603MFP, DD603, DD603I (87770)