Part Number DA31-00146H Evaporator Fan Motor to Suit Samsung refrigerator. (full model list is below)
Online Appliance Parts can supply a complete range of Genuine Samsung Spare Parts. If you can't find the spare part you are looking for, please contact us and we'll be happy to help you.
May Also be known as part numbers 1681683, 1778554.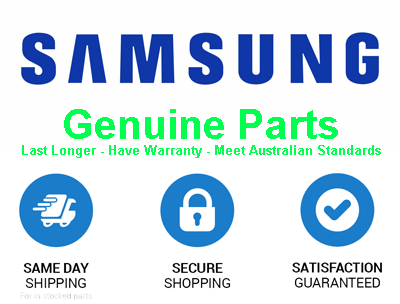 Suits the following models (we suggest you type your model into the search box on the top right hand side of the screen rather than searching through this list)
RB194ABBP, RB194ABRS, RB194ABWP, RB194ACBP, RB194ACRS, RB194ACWP, RB195ABBP, RB195ABPN, RB195ABWP, RB195ACBP, RB195ACPN, RB195ACWP, RB196ABBP, RB196ABRS, RB196ABWP, RB196ACBP, RB196ACRS, RB196ACWP, RB197ABBP, RB197ABPN, RB197ABRS, RB197ABWP, RB197ACBP, RB197ACPN, RB197ACRS, RB197ACWP, RB214ACRS, RB214ACWP, RB215ABBP, RB215ABPN, RB215ABWP, RB215ACBP, RB215ACPN, RB215ACWP, RB216ABBP, RB216ABRS, RB216ABWP, RB216ACRS, RB217ABBP, RB217ABPN, RB217ABRS, RB217ABWP, RB217ACBP, RB217ACPN, RB217ACRS, RB217ACWP, RF18HFENBBC, RF18HFENBSG, RF18HFENBSP, RF18HFENBSR, RF18HFENBWW, RF195ABBP, RF195ABRS, RF195ABWP, RF195ACBP, RF195ACRS, RF195ACWP, RF197ABBP, RF197ABPN, RF197ABRS, RF197ABWP, RF197ACBP, RF197ACPN, RF197ACRS, RF197ACWP, RF20HFENBBC, RF20HFENBSG, RF20HFENBSP, RF20HFENBSR, RF20HFENBWW, RF215ACWP, RF217ABBP, RF217ABPN, RF217ABRS, RF217ABWP, RF217ACBP, RF217ACPN, RF217ACRS, RF217ACWP, RF22KREDBSG, RF22KREDBSR, RF22NPEDBSG, RF22NPEDBSR, RF22NPEDDSG, RF23HCEDBBC, RF23HCEDBSG, RF23HCEDBSR, RF23HCEDBWW, RF23HCEDTSR, RF23HSESBSR, RF23HTEDBSR, RF23R6201DT, RF23R6201SG, RF23R6201SR, RF23R6201WW, RF23R6301SR, RF24FSEDBSR, RF25HMEDBBC, RF25HMEDBSG, RF25HMEDBSR, RF25HMEDBWW, RF25HMIDBSG, RF25HMIDBSR, RF260BEAEBC, RF260BEAESG, RF260BEAESP, RF260BEAESR, RF260BEAEWW, RF261BEAEBC, RF261BEAESG, RF261BEAESP, RF261BEAESR, RF261BEAEWW, RF261BIAESR, RF262BEAESR, RF263AEBP, RF263AEPN, RF263AERS, RF263AEWP, RF263AFBP, RF263AFRS, RF263AFWP, RF263BEAEBC, RF263BEAESG, RF263BEAESP, RF263BEAESR, RF263BEAEWW, RF263TEAEBC, RF263TEAESG, RF263TEAESP, RF263TEAESR, RF263TEAEWW, RF265AABP, RF265ABBP, RF265ABPN, RF265ABRS, RF265ABWP, RF265BEAESG, RF265BEAESR, RF266AAWP, RF266ABBP, RF266ABPN, RF266ABRS, RF266ABWP, RF266AEBP, RF266AEPN, RF266AERS, RF266AEWP, RF266AFRS, RF267AABP, RF267AARS, RF267AASH, RF267AAWP, RF267ABBP, RF267ABPN, RF267ABRS, RF267ABWP, RF267AEBP, RF267AEPN, RF267AERS, RF267AEWP, RF267AFBP, RF267AFRS, RF267AFWP, RF268ABBP, RF268ABPN, RF268ABRS, RF268ABWP, RF26DEPN, RF26HFENDBC, RF26HFENDSR, RF26HFENDWW, RF26HFPNBSR, RF26J7500BC, RF26J7500SR, RF26J7500WW, RF26J7510SR, RF26VABBP, RF26VABPN, RF26VABWP, RF26XAEBP, RF26XAEPN, RF26XAERS, RF26XAEWP, RF28HDEDBSG, RF28HDEDBSR, RF28HDEDPBC, RF28HDEDPWW, RF28HDEDTSR, RF28HFEDBBC, RF28HFEDBSG, RF28HFEDBSR, RF28HFEDBWW, RF28HFEDTBC, RF28HFEDTSG, RF28HFEDTSR, RF28HFEDTWW, RF28HFPDBSR, RF28HMEDBBC, RF28HMEDBSG, RF28HMEDBSR, RF28HMEDBWW, RF28HMELBSR, RF28JBEDBSG, RF28JBEDBSR, RF28MFEDES8, RF28NDEDBSG, RF28NHEDBSG, RF28NHEDBSR, RF28NHEDDSR, RF28R6201DT, RF28R6201SG, RF28R6201SR, RF28R6202WW, RF28R6221SR, RF28R6241SR, RF28R6301DT, RF28R6301SG, RF28R6301SR, RF30HBEDBSR, RF30HDEDTSR, RF30KMEDBSG, RF30KMEDBSR, RF31FMEDBBC, RF31FMEDBSR, RF31FMEDBWW, RF31FMESBSR, RF323TEDBBC, RF323TEDBSR, RF323TEDBWW, RF4267HABP, RF4267HARS, RF4267HAWP, RF4287AARS, RF4287HABP, RF4287HAPN, RF4287HARS, RF4287HAWP, RF4289HARS, RF4289HBRS, RFG237AABP, RFG237AAPN, RFG237AARS, RFG237AAWP, RFG237ACRS, RFG238AABP, RFG238AAPN, RFG238AARS, RFG238AAWP, RFG238AZRS, RFG28MESL, RFG293HABP, RFG293HAPN, RFG293HARS, RFG293HAWP, RFG295AABP, RFG295AAPN, RFG295AARS, RFG295AAWP, RFG296HDBP, RFG296HDPN, RFG296HDRS, RFG296HDWP, RFG297AABP, RFG297AAPN, RFG297AARS, RFG297AAWP, RFG297ACBP, RFG297ACRS, RFG297ACWP, RFG297HDBP, RFG297HDPN, RFG297HDRS, RFG297HDWP, RFG298AABP, RFG298AAPN, RFG298AARS, RFG298AAWP, RFG298HDBP, RFG298HDPN, RFG298HDRS, RFG298HDWP, RFG299AARS, RFG29PHDBP, RFG29PHDRS, RFG29PHDWP, RFG29THDRS, RL62ZBSH, RL67WCSH

Brand: Samsung
Product Code: DA31-00146H