BB92975 BeefEater BUGG BBQ Roasting Dish
The Beefeater Bugg Baking Dish is a high quality and user friendly baking dish which is designed to provide exceptional baking properties when used for cooking numerous meals on your Beefeater BUGG barbecue. This baking dish features a deep base design which can hold a large variety of foods for easy cooking. It also comes with a high strength construction which can easily handle high heat temperatures and can deliver mouth-watering baked dinners each and every time. Includes: Baking Dish. Roast Rack sold separately.
Enhance the outdoor cooking experience by choosing high quality BeefEater and BUGG (BeefEater Universal Gas Grill) accessories for your barbecue. They're tough, durable and created to work seamlessly with your new BBQ. From family gatherings to full-on banquets, the BeefEater accessory range can be trusted to help you host the best Aussies barbecues. Take your pick from an extensive variety of accessories, all custom made to make your cooking experience perfectly satisfying.
Online Appliance Parts is an authorised stockist for BeefEater spare parts and barbecue accessories. If our listings are missing something you need, please give us a call and we can order it in for you at great prices.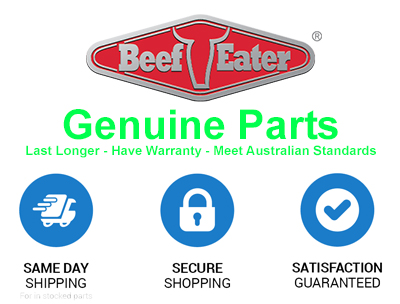 Compatible with:

BeefEater
Product Code: BB92975
Related Products