Part Number 0012377009K Drum Spigot Bearing Assy - Later Models Simspon Westinghouse Electrolux
Electrolux are the owners of the AEG, Chef, Dishlex, Electrolux, Kelvinator, Simpson and Westinghouse names, as well as older Hoover. Parts for any of these brands may be cross-compatible with each other.
Online Appliance Parts can supply a complete range of Genuine Simpson Spare Parts. If you can't find the spare part you are looking for, please contact us and we'll be happy to help you.
Simpson Westinghouse Dryer Drum Rear Bearing Kit:
Product no.: SMD027L

Quality clothes dryer rear bearing spigot, bush and bearing kit.

Simpson Sirocco, Simpson Eziset and some Westinghouse dryers. P/N SMD027 is equivalent to P/N 0012377009K.
Included in this package is:

Rear Bearing
Bush
Spigot (for newer Simpson and Westinghouse machines)

Mounting Screws
Washers
May be known by other part numbers including:
0012377009K, 0012300007, 0012300009, 0012377009, 2980600, 0012300006, 1586687, 1586862, 158686, 1586733, 1586992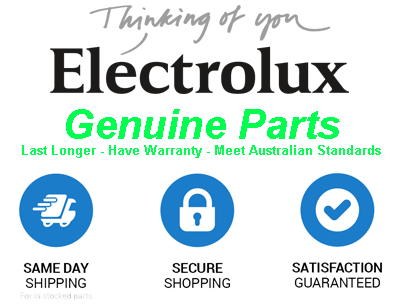 Suits Models: LDE05GSW*04, LDE04GPW*04, DC350S*13, 39S500JVK*02, 1350SR, 39P350, 39D505SR*13, 39S455J*02, 39B510SA*12, 39S367E*03, 39P361E*03, 39S500J*02, 39S457E*03, 39S456E*03, 39P452E*03, 39D456S*13, 39B365S*13, 39S512E*02, 39D457S*13, 39S456E*02, 39D452P*13, 39D512SA*12, DC460S*15, 39B365S*12, 39B455S*12, 39P361E*02, 39P362E*02, 39S367E*02, 39P452E*02, 39B455S*13, 39P362E*03, 39D505SR*12, 39D361P*13, 39S505E*02, 39S457E*02, 39D457S*12, 39D362P*13, MAXIDRY362, 39S512E*03, 39S505E*03, 39B360P*13, 39D512SA*13, 39S512E*01, 39B450P*13, FS50EA*01, 39D456S*12, 39S555J*01, 39S555J*02, 39S550J*01, 39S550J*02, 39P350J*02, 39P450J*02, 39S500K*01, 39S455K*02, 39S455K*01, 39P450K*01, 39P350K*02, 39P350K*01, 39S555L*00, 39S550L*00, 39S500L*00, 39S455L*00, 39P450L*00, 39P450K*02, 39P350L*00, 39S500J*01, 39S455J*01, 39S500K*02, 39S555K*03, 39S550K*03, 39S455K*03, 39P450K*03, 39P350K*03, 39S555K*02, 39S555K*01, 39S500K*03, 39S550K*02, 39S550K*01, 39P450J*01, 39S355J*01, 39P350J*01