Part Number 0019007868 Knob to suit Chef Stove
now USe 0019007888
Items listed for Stoves may be suitable for cooktops Wall Ovens or Underbench Ovens. Electrolux are the owners of the AEG, Chef, Dishlex, Electrolux, Kelvinator, Simpson and Westinghouse names, as well as older Hoover. Parts for any of these brands may be cross-compatible with each other.
Online Appliance Parts can supply a complete range of Genuine Chef Spare Parts. If you can't find the spare part you are looking for, please contact us and we'll be happy to help you.
Knob diameter - Height including shaft - 19.7mm, Shaft - 6mm D with a grey pointer. 42mm, Height - 18mm
The pointer direction is at 90 degrees to the direction of the flat side of the shaft. If looking at the back of the knob with the pointer straight up, the flat side is on the right hand side.

May be known by other part numbers including: 1575145, 1567324
Suits Models: PHK255W PHK255S PHK255K GHH10W*00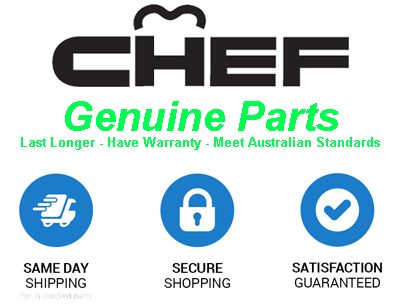 Related Products