Part Number 0045003280K Hinges & Springs RH/LH Grill to suit Simpson Oven
Items listed for Wall Ovens may be suitable for upright stoves, cooktops and freestanding ranges. Electrolux are the owners of the AEG, Chef, Dishlex, Electrolux, Kelvinator, Simpson and Westinghouse names, as well as older Hoover. Parts for any of these brands may be cross-compatible with each other.
Online Appliance Parts can supply a complete range of Genuine Simpson Spare Parts. If you can't find the spare part you are looking for, please contact us and we'll be happy to help you.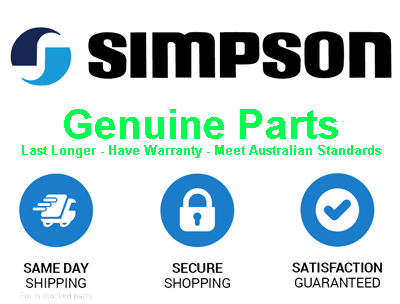 May be known by other part numbers, including: 1673098, 1727802, 0045003281, 0045003280, 0045003282, 445024, 0045003283, 0045003260, 0045003259
Suits Models: GUJ512W*10 GUJ512W*08 GUJ512W*07 GUJ512W*05 GUJ512W*02 GUJ511W*10 GUJ511W*09 GUJ511W*07 GUJ511W*06 GUJ511W*05 GUJ511W*02 GUJ510W*10 GUJ510W*09 GUJ510W*08 GUJ510W*07 GUJ510W*06 GUJ510W*05 GUJ510W*02 PAJ558W*19 PAJ558W*17 PAJ558W*16 PAJ558W*15 PAJ558W*13 PAJ521W*19 PAJ521W*17 PAJ521W*16 PAJ521W*15 PAJ529B*19 PAJ529B*18 PAJ529B*13 PAJ521W*13 PAJ520W*19 PAJ520W*13 PAJ518W*19 PAJ518W*18 PAJ518W*13 PAJ509RC*19 PAJ509RC*17 PAJ509RC*16 PAJ509RC*15 PAJ509RC*13 PAJ509R*19 PAJ509R*18 PAJ509R*13 PAJ501RS*19 PAJ501RS*13 PAJ501R*19 PAJ501R*18 PAJ501R*13 PAJ161B*19 PAJ161B*18 PAJ161B*13 PAJ144W*19 PAJ144W*13 PAJ143W*19 PAJ143W*18 PAJ143W*13 PAJ140W*19 PAJ140W*18 PAJ140W*13 EEC1380W-R*20 EEC1380W-R*06 EEC1380W-R*03 EEC1380W-L*20 EEC1380W-L*06 EEC1380W-L*03 EEC1350W-R*20 EEC1350W-L*20 EEC1230W-R*20 EEC1230W-R*18 EEC1230W-L*20 EEC1230W-L*18 EEC1380W-R EEC1380W-L EEC1350W-R EEC1350W-L EEC1230W-R EEC1230W-L EUC5390W EUC5370W EUC5350W EUC5340W EUC5330W EUC5140W EUC5130W EUC5110W PAJ558W*00 PAJ521W*00 PAJ520W*00 PAJ518W*00 PAJ509RC*00 PAJ509R*00 PAJ501RS*00 PAJ501R*00 PAJ529B*00 PAJ161B*00 61D931W*00 61D925W*00 61D924W*00 61D920W*00 61D919W*00 61D890R*00 61D817W*00 PAJ144W*00 PAJ143W*00 PAJ140W*00 GUC5145WNG*01 GUC5135WNG*01 GUC5135WLP*01 GUC5115WNG*01 GUC5115WLP*01 GBC5035WLP GBC5005WNG GBC5005WLP GUJ418W*02 GUJ418W*11 GUJ418W*10 GUJ418W*09 GUJ418W*07 GUJ418W*06 GUJ418W*05 GUJ418W*03 GUJ418W*01 GUJ416W*11 GUJ416W*10 GUJ416W*09 GUJ416W*07 GUJ416W*06 GUJ416W*05 GUJ416W*03 GUJ416W*02 GUJ416W*01 GUJ412W*10 GUJ412W*09 GUJ412W*07 GUJ412W*06 GUJ412W*05 GUJ412W*03 GUJ412W*02 GUJ412W*01 GUJ411W*10 GUJ411W*09 GUJ411W*07 GUJ411W*06 GUJ411W*05 GUJ411W*03 GUJ411W*02 GUJ411W*01 PAC516E PAC535EF PAC535F PAC616F PAC619EF PAC619F PAC629QEF PAC629QF PCC506F PCC539QEF PCC649QEF POC632A POC646QF POD712SMB POD712SMB-20/1 POD712SMB-20 POD712SMWO POD712SMWO-20/1 POD722SMB POD722SMB-20/1 POD722SMB-20 POD722SMWO