Part Number 0327001194 Oven Rack to suit Electrolux Oven
AKA part number 0327001194
Items listed for Wall Ovens may be suitable for Upright stoves, Cooktops and Freestanding ranges.
Dimensions: 473mm x 378mm
Electrolux spare parts may also be compatible with Simpson, Westinghouse, Chef, Dishlex, AEG, and Early Hoover, As these brands are all marketed by Electrolux.
Online Appliance Parts can supply a complete range of Genuine Electrolux Spare Parts. If you can't find the spare part you are looking for, please contact us and we'll be happy to help you.
May be known by other part numbers including: 1557620, 1557920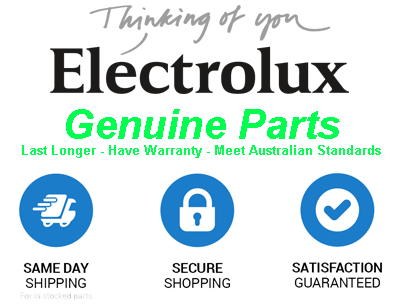 Suits Models: WFE619SA, 94000183024, WFE616SA, 94000182924, WFE517SA, 94000182424, WFE547SA, 94000182323, 94000180023, WLE522WA, 94000179923, 94000180523, WLE537WA, 94000180423, WLE527WA, 94000180323, WLE535WA, 94000180123, 94000180223, 94000182423, PAK140W, PAK143W, PAK144W, PAK161B, PAK161B*02, PAK501R, PAK501RS, PAK501RS*03, PAK509R, PAK509RC, PAK509RC*03, PAK518W, PAK520W, PAK529B, PAK529B*02, PAK558W, PAK140W*32, PAK143W*32, PAK144W*32, PAK161B*32, PAK501RS*32, PAK509RC*32, PAK518W*32, PAK520W*32, PAK529B*32, PAK558W*32, PAK140W*35, PAK143W*35, PAK144W*35, PAK161B*35, PAK509RC*35, PAK518W*35, PAK520W*35, PAK529B*35, PAK558W*35, PAK507RC, PAK557W, PAK140W*52, PAK143W*52, PAK144W*52, PAK161B*52, PAK501RS*52, PAK507RC*56, PAK509R*52, PAK518W*52, PAK520W*52, PAK529B*52, PAK557W*56, PAK140W*53, PAK144W*53, PAK161B*53, PAK501RS*53, PAK507RC*55, PAK509R*53, PAK518W*53, PAK520W*53, PAK529B*53, PAK557W*55, EBC5201W*53, EBC5211W*53, EBC5231W*53, EBC5241W*53, EBC5271W*53, EBC5451W*53, EBC5481W*55, EOC617S, EOC617W, EOC627S, EOC627W, EOC647S, EOC647W, EXC617S, EXC617W, EXC627S, EXC627W, EBC5201W*41, EBC5211W*41, EBC5231W*41, EBC5211W*36, EBC5231W*36, EBC5271W*36, EBC5451W*36, EBC5451W*40, PAK518W*40, PAK529B*40, PAK520W*40, EOC624S*40, EOC624W*40, EOC644S*40, EOC644W*40, EBC5201W*32, EBC5211W*32, EBC5241W*32, EBC5231W*32, EBC5261W*32, EBC5271W*32, EBC5451W*32, EBC5481W*32, PAK509RC*40, PAK558W*40, EBC5201W*59, EBC5211W*59, EBC5231W*59, EBC5241W*59, EBC5261W*59, EBC5271W*59, EBC5201W*61, EBC5211W*61, EBC5231W*61, EBC5241W*61, EBC5261W*61, EBC5271W*61, EBC5481W*59, EBC5451W*59, PAK509RC*37, PAK558W*37, PEK1370W-L, PEK1370W-R, EOC617S*01, EOC617W*01, EOC627S*01, EOC627W*01, EOC647S*01, EOC647W*01, EXC614S*42, EXC614W*42, EXC624S*42, EXC624W*42, EOC614S, EOC614W, EOC624S, EOC624W, EOC644W, EOC644S, EBC5201W, EBC5211W, EBC5231W, EBC5241W, EBC5261W, EBC5271W, EBC5451W, EBC5481W, PEK1350W-L*59, PEK1350W-R*59, PEK1370W-L*59, PEK1370W-R*59, EXC624S*40, EXC624W*40, PEK1350W-L*40, EOC614S*04, PEK1350W-R*40, PEK1380W-L*40, EOC614W*04, EOC614W*32, EOC624S*04, PEK1380W-R*40, EOC624W*04, EOC624W*32, EOC644S*04, EOC644W*04, EOC644W*32, EGC624S*40, EGC624W*40, EGC634S*40, EGC634W*40, EXC614S*43, EXC614S*46, EXC614W*46, EXC614W*47, EXC624S*43, EXC624W*47, EXC614S, EXC614W, EXC624S, EXC624W, EXC624W*32, 63K906W, 94403149609, 94403146910, 94403149509, 94403149510, 94403148610, 94403148510, PEK1350W-L, PEK1350W-R, WLE620WA, 940001815, WLE622WA, 940001816, WLE646WA, 940001822, WLE644WA, 940001820, 63K906S, 94403149413, 94403149313, 94403149613, 94403149513, EBC5261*43, EBC5241*43, EBC5271*43, EBC5451*43, EBC5481*43, EOC614S*43, EOC614S*46, EOC614S*49, EOC614W*46, EOC614W*49, EOC624S*43, EOC644S*43, EXC614W*32, EXC614S*38, EXC614W*38, EXC624S*38, EXC624W*38, PAK130W, PAK143W*53, PEK1380W-L, PEK1380W-R, PAK144W*05, PAK501RS*05, PAK520W*05, EBC5211W*05, EBC5231W*05, EBC5271W*05, EBC5451W*05, EBC5241W*34, EBC5241W*35, EBC5261W*34, EBC5261W*35, EBC5271W*35, EBC5451W*35, EBC5481W*35, EBC5481W*40, EBC5481W*42, 63H906S*42, EOC614S*42, EBC5201W*43, EBC5211W*43, 63H906W*42, 63H914S*42, 63H914W*42, EOC614W*42, EOC624S*42, EBC5231W*43, EOC624W*42, EOC644S*42, EOC644W*42, EGC624S*44, EGC624W*44, EGC634S*44, EGC634W*44, EOC624S*49, EOC624W*49, PEK1350W-L*52, PEK1350W-R*52, PEK1370W-L*52, PEK1370W-R*52, PEK1370W-L*54, PEK1370W-R*54, PEK1370W-L*55, PEK1350W-L*53, PEK1350W-R*53, PEK1370W-R*55, EGC627S, EGC627W, PEK1350W-L*57, PEK1350W-R*57, PEK1370W-R*57, PEK1370W-L*57, PAK130W*41, EGC624S, EGC624W, EGC624W*32, EGC634S, EGC634W, EGC634W*32, EGC627S*01, EGC627W*01, 943000913, 943000914, WFE642SA, 940001826, WFE619WA, 943000915, 94403149009, 94403148909, 94403149209, 94403149109, PEK1350W-L*43, PEK1350W-R*43, PEK1380W-L*43, PEK1380W-R*43, PAK130W*61, POR881S, 94403151863, 94000179601, 94000179913, 94403151874, 94000179315, 94000179415, CFE547WA, 94000179515, 94000179615, PEK1380W-L*37, PEK1380W-R*37, 94000179915, 94403148809, 94403148815, 94403148709, 94403149012, 94403149415, 94403149015, 94403149615, 94403148213, 94403148912, 94403149212, 94403148215, 94403149215, 94403148113, 94403148413, 94403149112, 94403148415, 94403148313, 94403148613, 94403148615, 94403148513, WVEP615S, 944031688, WVEP615W, 944031689, 94000180015, 63H906S*40, 63H906W*40, 63H914S*40, 63H914W*40, PEK1370W-L*43, PEK1370W-R*43, CFE535WA, 94000179316, 94000179416, 94000179516, CFE547SA, 94000179616, WLE533WA, 94000180016, WLE525WA, 94000180216, WLE547WA, 94000180516, 94000181816, 94000182116, WFE647SA, 94000182716, 94000182816, EBC5201W*04, EBC5211W*04, EBC5231W*04, EBC5481W*37, 940001829, 94000183016, 94000183116, 94000173364, 94000173464, EOB303X, 944031428, 63K906S*01, 63K906W*01, 63K914S*01, 63K914W*01, EOB305X, 944031429, EOB307X, 944031430, PAK130W*52, PAK130W*53, PAK130W*59, 63H906S, 63H906W, 63H914S, 63H914W, 940001830, 940001831, 940001824, 940001823, PEK1350W-L*32, PEK1350W-R*32, PEK1380W-L*32, PEK1380W-R*32, 62H622W*39, 62H636W*39, 62H682W*39, 62H682W*40, WLE625WA, 94000181817, WLE645WA, 94000182117, WLE624WA, 94000181717, WLE626WA, 94000181917, 94000182717, WFE647WA, 94000182817, 94000181517, 94000181617, 94000182217, 94000182017, 94000183017, 94000183117, PAK141W*53, EOB303X-1, 94403150703, 94000182918, 94000183018, 94000183118, 94000183019, 94000183119, 94000182919, PAK141W*61, CFE536SA, 94000179201, 94000182719, 94000182619, 94000182819, WDE147WA-L, 940001838, WDE147WA-R, 940001839, CFE536WA, 94000179118, 94000179318, CFE537WA, 94000179418, 94000179518, PAK130W*04, PAK130W*32, 63H906S*49, 63H906W*49, 62H636W*37, 63H906S*04, 63H906W*04, 63H906W*32, 63H914S*04, 63H914W*04, 63H914W*32, WDE135WA-L, 940001836, WDE135WA-R, 940001837, 62H622W, PAK141W, 62H636W, 62H682W, 94000180318, 94000180418, 94000180518, 94000183801, 94000183901, 62H622W*32, 62H636W*32, 62H682W*32, 94000183602, 94000183702, 94000183802, 94000183902, 94000179919, 94000180219, 94000180119, 94000180319, 94000180419, 94000180519, PAK141W*59, 94000181720, 94000181920, 94000182020, 94000182220, 94000180215, 94000180115, 94000180315, 94000180415, 94000180515, 940001827, 940001828, PAK501RS*35, 94000180209, 94000180109, 94000180309, 94000180409, 94000180509, 940001802, 940001801, 940001803, 940001804, 940001805, 94000180116, 94000180316, 94000180416, CFE532WA, 94000179009, 94000179109, 94000179209, 940001790, 940001791, 940001792, 94000179309, 94000179409, 94000179509, 94000179609, 94403148209, 94403148109, 94403148409, 94403148309, 94403148609, EOC647S-ML14, 94403148614, 94403148509, EOC647W-ML14, 94403148514, 944031518, 94000179003, 94000179103, 94000179203, 94000179013, 94000179113, 94000179213, 94000179015, 94000179115, 94000179215, 94403148816, 94403148716, 94403149016, 94403148216, 94403148116, 94403148416, 94403148316, 94403148616, 94403148516, 94403148916, 94403149216, 94403149116, 94403148217, 94403149417, 94403149419, 94403149317, 94403149319, 94403149617, 94403149619, 94403149517, 94403149519, 94403148817, 94403148819, 94403148717, 94403148719, 94403148219, 94403148117, 94403148119, 94403148417, 94403148419, 94403148317, 94403148319, 94403148617, 94403148619, 94403148517, 94403148519, 94403149017, 94403149019, 94403149020, 94403148917, 94403148919, 94403148920, 94403149217, 94403149219, 94403149220, 94403149117, 94403149119, 94403149120, 94000174472, 94000174572, 94000179920, 940001793, 940001794, 940001795, 940001796, EVEP604SC, 944031728, EVEP606SC, 944031729, 94403149409, 94403149309, 63K914S, 94403146914, 63K914W, ML14, 94403149514, CVE662SA, 9440317430, CVE662WA, 9440317440, CVEP614SA, 9440317410, SVEP614SA, 9440317460, CVE612SA, 9440317370, CVE612WA, 9440317380, CVE614SA, 9440317390, CVE614WA, 9440317400, SVE614SA, 9440317450, POR881W, 94403164163, 94403164174, 94000179022, 94000179222, 94000179122, 94000179322, 94000179422, PAK140W*59, PAK143W*59, PAK144W*59, PAK140W*61, PAK143W*61, PAK144W*61, PAK507RC*59, PAK509R*59, PAK518W*59, PAK520W*59, PAK529B*59, PAK557W*59, 94000172666, 94000172766, 94000174366