140003571019 Drain Hose - Global Series
Simpson, Global, Westinghouse, Electrolux, Dishlex Dishwasher Outlet Hose
Replaces Product no.: 0571400166
Genuine dishwasher drain hose part 0571400166 to suit Simpson, Global and Westinghouse dishwashers.
Measurements: 2230mm Long, 2.4m long with 90 degree and 30mm opening and a 18mm diameter at the straight end.
May be known by other part numbers including: 0571400166, 1173680305, 0349200072, 672030090046, 758971536, 791075, 890534, 8905903, A054869, C00054869, DWV061, DWV544, H0120201481, MDW12.DH.01, SC890534, TD672030090059, WQP12-9235-35, 1611115, 1611689, 1611543, 1755939, 1656163, 1686996, 1616089, 1615469, 1614942, 1614718, 1615151, 1615262, 1653896, 1654296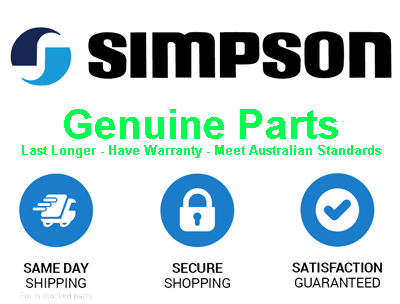 Suits Models: DX302SJ*03, DX302WJ*03, DX302SJ*04, DX302WJ*04, DX302SJ*05, DX302WJ*05, DX302SJ*06, DX302WJ*06, DX403WB*04, DX302ISJ*00, DX302ISJ*01, DX302ISJ*03, SB915KJ*08, SB915SJ*08, SB915WJ*08, SB925SJ*08, EX600ISC*01, DX302SJ-AA*00, DX302WJ-AA*00, DX302SJ-AA*01, DX302WJ-AA*01, DX302SJ-AA*02, DX302WJ-AA*02, 52B850SJ*05, 52B850WJ*05, DX302ISJ*04, DX302ISJ*05, EX403SJ*03, DX403SJ*03, 52B870SJ*06, 52B870WJ*06, 52B870SJ*07, 52B870WJ*07, DX102SJ*02, DX102WJ*02, EX600ISB*02, EX302SJ*05, EX302WJ*05, 52B870SJ*02, 52B870WJ*02, 52B890SJ*02, 52B890WJ*02, EX500ISC*02, EX302SB*00, EX302WB*00, EX403SB*00, EX403WB*00, EX403IWB*00, 52B870WJ*08, 52B870SJ*08, EX600ISB*03, 91163521201, EX302SJ*02, 52B890SJ*06, 52B890WJ*06, EX403SJ*00, EX403SJ*01, EX403SJ*02, SB915KJ*06, SB915SJ*06, SB915WJ*06, SB925SJ*06, DX301WK, 91151602702, 91151602801, 91151602707, WSF6605XR, 91141605700, 91141605702, 91141605703, ESF66814XR, 91144403501, 91144403500, F78002VI0P, 91143403501, F78002V10P, 91143403500, F88089M0P, 91144701001, FAV86050UM, 91123621401, F77000M0P/AU, 91141411802, ESF6800ROX, 91141802102, 91141802101, WSU6603XR, 91144601207, 91141411801, F88009W0P, 91141703600, F88009M0P/AU, 91141703700, F77000W0P, 91141411700, 91141405803, F77000M0P, 91141405903, WSF6605WR, 91141605800, 91144601201, 91144701000, WDF902WA, 91191638400, WDF902SA, 91191638500, EX600ISC*00, ESL9163, 911016208, FAV40730W, 91123258302, FAV40860M, 911371108, 91123258301, FAV44050UM, 91123621300, F88025VIM, 91194461006, FAV85060VI, 91123507402, 91143403503, FAV60850VIM, 911373087, 911371041, F88009M0P, 91141701002, ESL4143, 911635212, 91144601203, 91144601200, 91144403504, 91141701003, 91141405802, 91144601204, 91141605802, F78002VI0P/AU, 91143409900, 91144403503, 91141411800, 91141405801, 91141701001, 91141700901, WSF6602WR, 91141602500, 91141602400, FAV6281IM, 91123443603, FAV40760, 911371106, 91144701002, 91151602803, 91151602804, 91151602805, 91151602806, 91151602807, 91151602700, 91151602703, 91151602704, 91141605701, 91141602501, DX300KA*03, DX300WA*03, DX310SA*01, FAV86050IM, 911235073, 91123507301, FAV60820W, 91123258401, ESF6700ROX, 91141703300, DX303SL, 911946252, DX303WL, 911946253, 91141703301, F77000W0P/AU, 91141411702, 91143409902, 91141411701, WDU903SA, 91194626806, SB908WK, 91194522701, SB908SK, 91194522801, 91141405901, 91141602401, 91144601205, 52B850SJ*03, 52B850WJ*03, 52B850SJ*04, 52B850WJ*04, DX103WK, 91151903101, 91141703701, F88009W0P/AU, 91141703601, FAV88050IM, 91123483103, 91144601208, DX102SB*02, SB907WJ*01, 52B890WJ*01, EX302WB*01, 52B850SJ*00, EX403WB*01, 52B870WJ*01, DX403IWB*01, SB915SJ*01, EX302SB*01, EX600ISB*01, EX600ISB*00, SB915WJ*00, DX102WB*01, 52B850WJ*00, 52B890WJ*00, DX403SB*02, SB907SJ*01, DX302SB*03, DX403IWB*03, DX302WB*01, DX403WB*03, DX102SB*00, DX403WB*02, SB915KJ*00, SB907SJ*00, SB915SJ*00, EX403SB*01, 52B870SJ*00, DX302SB*00, DX302WB*00, 52B870WJ*00, DX403SB*01, DX403WB*01, DX102SB*01, 52B890SJ*00, DX403IWB*00, SB915WJ*01, DX102WB*02, SB925SJ*01, 52B890SJ*01, DX403SB*03, SB907WJ*00, 52B870SJ*01, DX302WB*03, SB925SJ*00, DX403WB*00, DX403SB*00, DX302WB*02, DX302SB*01, DX102WB*00, DX302SB*02, SB915KJ*01, DX403IWB*02, 52B850WJ*02, SB907WJ*09, SB907SJ*09, 52B850SJ*02, SB907SJ*04, SB915KJ*04, SB915WJ*03, SB915KJ*05, EX403SB*03, SB925SJ*05, SB907WJ*07, SB925SJ*07, EX302SB*03, DX102SJ*03, SB907WJ*06, SB907SJ*05, SB915WJ*05, SB907SJ*03, SB907SJ*06, DX102WJ*03, EX500ISC*00, DX403SJ*02, DX403SJ*01, DX403SJ*00, EX403WB*03, SB915WJ*07, EX302WB*02, 52B850SJ*01, EX403WB*02, SB907WJ*10, SB915SJ*07, SB915SJ*05, SB907SJ*10, DX102SJ*01, DX102WJ*01, SB907WJ*05, EX403SB*02, SB925SJ*04, EX500ISB*00, SB915WJ*04, SB915SJ*04, EX302WB*03, SB915KJ*07, SB907WJ*04, SB925SJ*03, EX302SB*02, SB915SJ*03, SB915KJ*03, SB907WJ*03, SB907SJ*08, SB925SJ*02, SB915WJ*02, SB915SJ*02, SB915KJ*02, SB907WJ*02, SB907SJ*02, SB907WJ*08, DX102SJ*00, 52B850WJ*01, DX102WJ*00, EX500ISB*01, SB907SJ*07, 52B850WJ*07, 52B850SJ*07, DX403WB*07, DX403WB*06, DX403SB*06, DX403IWB*05, DX403IWB*04, DX403WB*05, DX403IWB*06, 52B890WJ*05, DX403SB*05, 52B890SJ*05, DX403SB*04, 52B870WJ*05, 52B870SJ*05, 52B890WJ*04, 52B890SJ*04, 52B870WJ*04, 52B870SJ*04, 52B890WJ*03, EX302WJ*02, 52B890SJ*03, EX302WJ*00, EX302SJ*00, 52B870WJ*03, 52B870SJ*03, DX302WJ*02, DX302SJ*02, 52B850WJ*08, EX302WJ*04, DX302WJ*01, DX302SJ*00, EX302SJ*04, EX302WJ*03, EX302SJ*03, 52B850WJ*06, DX302SJ*01, 52B850SJ*06, DX302WJ*00, WSF6602XR, ESF66814XR PNC 91144403504, DX301SK, DW2112P1, DW67S, WQP12-9240AS, BAFD62SS, LDW3SS, BAD6003, DDW3FSS, LOD6001, VFD1SS, DW601WA, LDW3W, BAD6001, OFI602XXA, 8516555, DW67SW, BAD6002, DW601XA, DW300XA, DW60CDX2, 8968WW, 8965BK, 8917WW, 8987WW, 8987BK, 8987SB, 8968BK, 8985BK, 8988WW, 8988BK, 8917BK, 8915WW, 8915BK, 8985WW, 8952WW, 8947WW, 8947BK, 8945WW, 8945BK, 8967WW, 8967BK, 8967SB, 8965WW, DX450SA*01, DX300SA*01, DX500SA*01, DX500KA*00, DX100KA*00, DX300WA*00, DX300WA*01, DX300KA*01, DX500WA*01, DX450IKA*01, DX500IWA*01, DX500IKA*00, DX450IKA*00, DX100SA*00, DX300KA*00, DX450IWA*00, DX450KA*01, DX100SA*01, DX100SA*02, DX500IKA*01, DX100WA*02, DX100KA*02, DX100KA*01, K100WA*00, DX500SA*00, DX500WA*00, DX450SA*00, DX300SA*00, DX100WA*00, K100WA*01, K100WA*02, DX450WA*01, DX150WA*00, DX450KA*00, DX450WA*00, DX500IWA*00, DX450IWA*01, DX500KA*01, DX100WA*01, DX100FBS*A, DX100FBK*A, 8955WW, DX100FWW*A, DX100IWW*A, DX150MWW*A, DX150FWW*A, DX450FBK, DX450FWW, DX450ISB, 8957WW, 8945BK/WW, 8947BK/WW, DX150IWW*A, DX450IBK, DX450IWW, DXCLRFWW*A, DX300FBS, DX300FBK, DXCLRISB*A, DXCLRIWW*A, 8943WW, 8972WW, DX300ISB, DX300IBK, DX300IWW, 8956WW, 8916WW, 8932WW, 8951WW, 8914WW, 8933WW, 8953WW, 8941WW, 8971WW, 8942WW, 8931WW, 8917WW/BK, 8973WW, DX300FWW, 8914SB, 8915WW/BK, DX200FWW, 8914BK, DX200FBK, DX200IWW, 8913WW, DX200IBK, 8913BK, K150WA*01, 8988BK/WW, 897BK/SB/WW, 9095BK/SB/WW, 8968BK/WW, 8967BK/SB/WW, 8937WW, 8965BK/SB/WW, DX150WA*01, K150WA*00, 8948BK/WW, 8935WW, 52B980SH*00, 52B950WH*00, SB920WG*00, 52B980WG*00, 52B850WG*00, 52B850WH*00, 52B850SH*00, SB922SH*00, SB905WH*00, SB921SH*00, SB921KH*00, SB921WG*00, 52B980SG, SB921WH*00, SB920SH*00, SB921SG*00, SB921KG*00, 52B950WG*00, SB920WH*00, 52B850SG, 52B980WH*00, SB905WG*00, 8903WW, 8907WW, 8905WW, 8904WW, DX500FBS, DX500FBK, DX500FWW, DX500ISB, DX500IBK, DX500IWW, LS2050A, LS620AIX, LS620A, L64, HDW12-SFE1 WH, HDW12-TFE3 SS, DW12-TFE4 WH, HDW12-SFE3 SS, HDW12-TFE3 WH, HDW12-SFE3 WH, DW101S-EM, DW12-TFE4 SS, DW60CEW1, TBD4SS-2, HDW12-SFE1 SS, DW60CDX1, DW12-TFE4SS (61521-A), DW60CSW1, VDW6SS, HDW300SS, DW12-TFE2SS (61513-A), HDW100WH, DW60CEX1, DW12-TFE4WH (61520-A), DW60CSX1, DW60CDW2
Product Code: 140003571019