Part Number 1260000101 Door Hinge Single to suit Technika Oven
Items listed for Wall Ovens may be suitable for Upright stoves, cooktops and freestanding ranges.
Online Appliance Parts can supply a complete range of Genuine Technika Spare Parts. If you can't find the spare part you are looking for, please contact us and we'll be happy to help you.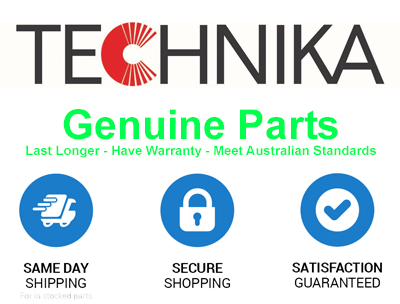 May be known by other part numbers including: 1739385, 1691852, 1714735, 1875050, BMT095, BMT091, M521260000101, 49005017,1260000096, EF6A1
Suits Models: B59FTI TB60FSS B59ST1 B59MTI/1 BA187SS L186.2SS 186SS B147SS B156SS-A B187BL-B B100BL-A B151BL-B B157SS B187DKW B100SS-B B151BL-RO B175SS B187DKX B100W-A B151SS-B B178SS B187NB-B B101BL B151W-B B180B B187SKBL-B B102SS B152SS B180BL-A B187SKW-B B103SS-B B153SS B180BL-B B187W-B B104.1BL B153SS-A B180W-A B209SS-A B104.1SS B155.1SS-A B180W-B B230CH-A B144SS B155.1SS-B B187BL-A B230IT.CH B710X BK160W BOM5201SS BS100SS-B BA180W BK164SS BOM7100S BW152SS BA187BL BK190W BOM7101SS DA158W BA187W BK200W BOM7200SS HT125X BC100SS BOC7010BL BOM7201SS L186W BC145 BOC7010SS BOM7250SS P613SS BC187BL BOC7010W BOM7250W POG4201SS BC187WH BOG3100BL BOM7340CO POG4201SS-BX BF120SS BOG3100SS BOM9249SS POG4202SS BG600SS BOM5100SS BOS4110SS VFFO6SS BMT095 B59FTI TB60FSS B59ST1 B59MTI/1 B59PTIP B59STIP1 B153SS B50STIP1 B59FTW L156.2SS L156W L156.3W L1563W L186.2SS L1862SS L186W L.186.2W L186.2W L1862W LIO6001 L186SS
May also suit Linea models.
Brand: Technika
Product Code: 1260000101
Related Products