Part Number 3015915900 Fan Motor 13V Daewoo NEC to suit Smeg Fridge
Omega, Smeg and Blanco parts may be cross-compatible with each other.
Online Appliance Parts can supply a complete range of Genuine Smeg Spare Parts. If you can't find the spare part you are looking for, please contact us and we'll be happy to help you.
Suits many Bosch, Neff and Siemens machines as well.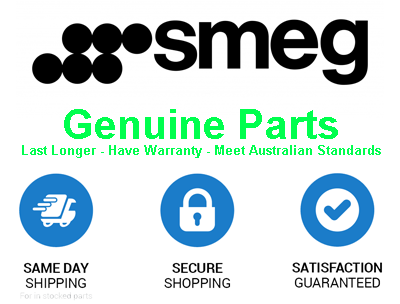 May be known by other part numbers including: 1680622, 1713751, 3015905330, 3015906900, 3015911400, 3015914700, 3015916000, 3015916100, 3015916370, 601016, 601067
Suits Models: B20CS50SNB/01, B20CS51SNI/01,B20CS80SNW/01, KAN56V10AU/03, B20CS50SNB/02, B20CS51SNI/02, B20CS80SNW/02,KAN56V10AU/04, B20CS50SNI/01, B20CS51SNS/01, B20CS81SNB/01, KAN56V10AU/05,B20CS50SNI/02, B20CS51SNS/02, B20CS81SNB/02, KAN56V10NE/01, B20CS50SNS/01, B20CS51SNW/01,B20CS81SNS/01, KAN56V10NE/02, B20CS50SNS/02, B20CS51SNW/02, B20CS81SNS/02,KAN56V10NE/03, B20CS50SNW/01, B20CS80SNB/01, B20CS81SNW/01, KAN56V10NE/04,B20CS50SNW/02, B20CS80SNB/02, B20CS81SNW/02, KAN56V10NE/05, B20CS51SNB/01,B20CS80SNS/01, KAN56V10AU/01, KAN56V10SA/01, B20CS51SNB/02, B20CS80SNS/02,KAN56V10AU/02, KAN56V10SA/02, KAN56V10TI/01, KAN56V40AU/02, KAN56V50/05,KAN58A10/07, KAN56V10TI/02, KAN56V40AU/03, KAN56V50/06, KAN58A10/08,KAN56V10TI/03, KAN56V40AU/04, KAN56V50/07, KAN58A10/09, KAN56V10TI/04,KAN56V40AU/05, KAN56V50/08, KAN58A10/10, KAN56V10TI/05, KAN56V40SA/01,KAN58A10/01, KAN58A10GB/01, KAN56V10TI/06, KAN56V40SA/02, KAN58A10/02,KAN58A40/01, KAN56V10TI/07, KAN56V50/01, KAN58A10/03, KAN58A40/02,KAN56V10TI/08, KAN56V50/02, KAN58A10/04, KAN58A40/03, KAN56V10TI/09,KAN56V50/03, KAN58A10/05, KAN58A40/04, KAN56V40AU/01, KAN56V50/04, KAN58A10/06,KAN58A40/05, KAN58A40/06, KAN58A40AU/06, KAN58A40GB/08, KAN58A50/05,KAN58A40/07, KAN58A40AU/07, KAN58A40GB/09, KAN58A50/06, KAN58A40/08, KAN58A40AU/08,KAN58A40GB/10, KAN58A50/07, KAN58A40/09, KAN58A40GB/01, KAN58A40J/01,KAN58A50/08, KAN58A40/10, KAN58A40GB/02, KAN58A40J/02, KAN58A50/09,KAN58A40AU/01, KAN58A40GB/03, KAN58A40J/03, KAN58A50/10, KAN58A40AU/02,KAN58A40GB/04, KAN58A50/01, KAN58A50GB/01, KAN58A40AU/03, KAN58A40GB/05,KAN58A50/02, KAN58A50GB/02, KAN58A40AU/04, KAN58A40GB/06, KAN58A50/03,KAN58A50GB/06, KAN58A40AU/05, KAN58A40GB/07, KAN58A50/04, KAN58A50GB/07,KAN58A50GB/08, KAN58A50TI/02, KAN58A70AU/03, KAN58A70NE/06, KAN58A50GB/09,KAN58A70/05, KAN58A70AU/04, KAN58A70NE/07, KAN58A50GB/10, KAN58A70/06,KAN58A70AU/05, KAN58P90/01, KAN58A50NE/01, KAN58A70/07, KAN58A70AU/07,KAN58P90/02, KAN58A50NE/02, KAN58A70/08, KAN58A70AU/08, KAN58P90/03,KAN58A50NE/03, KAN58A70/09, KAN58A70NE/01, KAN58P90/04, KAN58A50NE/04,KAN58A70/10, KAN58A70NE/02, KAN58P90/05, KAN58A50NE/05, KAN58A70/11,KAN58A70NE/03, KAN58P90/06, KAN58A50NE/06, KAN58A70AU/01, KAN58A70NE/04,KAN58P90/07, KAN58A50TI/01, KAN58A70AU/02, KAN58A70NE/05, KAN58P90/08,KAN58P90/09, KAN60A40/01, KAN60A40AU/01, KAN60A40TI/01, KAN58P90/10,KAN60A40/02, KAN60A40AU/02, KAN60A40TI/02, KAN58P95/01, KAN60A40/03,KAN60A40J/01, KAN60A40TI/03, KAN58P95/02, KAN60A40/04, KAN60A40J/02,KAN60A40TI/04, KAN58P95/03, KAN60A40/05, KAN60A40J/03, KAN60A40TI/05,KAN58P95/04, KAN60A40/06, KAN60A40NE/01, KAN60A40TI/06, KAN60A15NE/01,KAN60A40/07, KAN60A40NE/02, KAN60A40TI/07, KAN60A15NE/02, KAN60A40/08,KAN60A40NE/03, KAN60A40TI/08, KAN60A15NE/03, KAN60A40/09, KAN60A40NE/04,KAN60A41K/01, KAN60A15NE/04, KAN60A40/10, KAN60A40NE/05, KAN60A41K/02,KAN60A41K/03, KAN61A40TI/06, KAN61A40TI/08, KAN61A40TI/01, KAN61A40TI/07,KAN61A40TI/09, FRN-U20BC, FRN-U20DC, FRN-U20FC,FRN-U20IC, FRS-U20BC, FRS-U20DAI, FRS-U20DC, FRS-U20DCB, u20iai, DRS30DSMB,FRAU20DCB, K3940X6/01, K3950X6GB/06, K3990X6/01,K3990X6GB/04, K3940X6/02, K3950X6GB/07, K3990X6/02, K3990X6GB/05, K3940X6/03,K3970X6/01, K3990X6/03, K3990X6GB/06, K3940X6/04, K3970X6/02, K3990X6/04,K3990X7/01, K3940X6GB/01, K3970X6/03, K3990X6/05, K3990X7/02, K3940X6GB/05,K3970X6/04, K3990X6/06, K3990X7/03, K3940X6GB/06, K3970X6/05, K3990X6/07,K3990X7/04, K3940X6GB/07, K3970X6/06, K3990X6GB/01, K3990X7GB/01, K3950X6GB/01,K3970X6/07, K3990X6GB/02, K3950X6GB/05, K3970X6/08, K3990X6GB/03, KA58NA40GB/01, KA58NA40GB/07,KA58NA50GB/07, KA58NP90GB/07, KA58NA40GB/06, KA58NA50GB/01, KA58NP90GB/05