305597602 Thermocouple T Elux Burner 750 to suit Electrolux Stove
Items listed for Stoves may be suitable for upright ranges, Cooktops and Ovens.
Online Appliance Parts can supply a complete range of Genuine Electrolux Spares. If you can't find the spare part you are looking for, please contact us and we'll be happy to help you.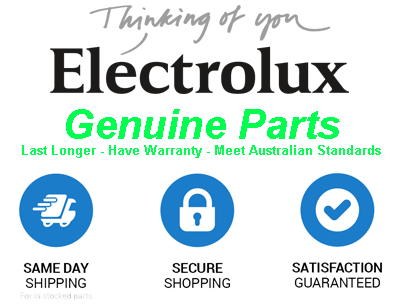 Replaces part numbers: 1801383, 1557297, 1577115, 357056302, 357056303
Suits Models: 94300089401, 943253664, EFE916BA, 943000897, 49669GO-MN, EHGC95AS, 94325366447, EHGC95AS*46, 94325366401, WFE914SA, 94300089474, 94300089475, WFE916SA, 94300089575, 94300089576, 94300089476, 94300089776, 94300091076, 94300089477, 94300089577, 94300089473, 94300089478, 94300089773, 94300091073, 94300089573, 943000894, 943000895, 94300091079, 94300089779, 94300089579, 94300089479, 94300091080, EHG953BA, GHP17S, VHP17W, GHP765S, GHP775S, GHP795S, EHGC77BS, EHGC97BS, EHGC64AS*45, GHCF643S, ESE6633S, EHGC95AS*45
Compatible with:

Electrolux
Product Code: 305597602