Fisher and Paykel Drain Pump Smartdrive Replaces FP003, FP004, 426956P and 420324P

This is not the Origial Fisher and Paykel Pump. The Original pump has been discontinued by Fisher and Paykel. This is an Italian pump which is a replacement for the original. It is an improved spec 100W pump used by Smeg and other manufacturers. We believe it's a better pump that the orginal one.
Beware: There are some pumps on the market made in China. Those pumps do not latch in properly and could be at risk of working loose and falling out mid wash. Nobody needs that!

The original pump looked like this: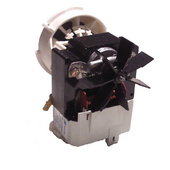 The new style pump is a direct replacement for the old one. It clips in in 30 seconds and the wires plug straight in to the harness on your machine.
Most common Fisher and Paykel Drain Pump to suit a wide variety of washing machines.
Suits Models including: AW085, AW095, GW500, GW501, GW503, GW508, GW509, GW603, GW608, GW609, & GW650, GW700, GW701, GW703, GW708, IW509, IW511, IW609, IW611, IW709, IW710, IW711, MW050, MW051, MW053, MW058, MW059, MW060, MW070, IW509 - 93138, IW710 - 93139, IW711 - 931531, IW712 - 92128-B, IW712 - 93128-A - 93178 - 93190-A - 93198-A - 93202-A, IW810 - 93140, IW811 - 93154, IW812 - 92134-B - 93134-A - 93179 - 93192-A - 93192-B - 93203-A - 93211-A, GW500B-U - 93905, GW501-U - 93912 - 94915, GW511 - 93149, GW512 - 93122-A - 93170 - 93185-A - 93195-A - 93195-B - 93209-A, GW600B-U - 93906, GW601-U - 93913 - 94916, GW611 - 93150, GW612 - 93124-A - 93172 - 93196-A - 93196-B - 93201-A, GW650A-U - 93917, GW700B-U - 93907, GW701-U - 93914 - 94917, GW711 - 93151, GW712 - 93173 - 93200-A - 93200-B, GW712 - 93131-A - 93187-A - 93187-B - 93210-A, MW051-U - 93915, MW511 - 93148, MW512 - 93121-A - 93121-B - 93121-C - 93121-D - 93121-E - 93168 - 93182-A -93194-A - 93194-B - 93197-A - 93208-A, MW513 - 92145-A, WA55T56GW1 - 92160-A - 93204-A, WA65T60GW1 - 92164-A - 93205-A, WA70T60FW1 - 92158-A - 98158-A, WA70T60GW1 - 92146-A, WA75T65GW1 - 92169-A - 93206-A, WA80T65FW1 - 92159-A, WA80T65GW1 - 92193-A, MW511, GW603-U (93975), GW712, GW712 (93187-A AU FP WH), GW600, GW612, IW812, GW711, GW601U, GW650 (93917 GW650A-U), GW603 (93971), IW509 (93138 AU FP WH), GW500B-U, GW501 (94915 (GW501-UB)), WA75T65GW1, GW511, GW512, GW601, GW611, GW612AU (93172 AU WH), GW701 ( 93914 GW701-U), GW700 (93907 GW700B-U), GW712 (93187-B FP WH), MW512, IW710 (93139 FP WH), IW711 (93153 FP WH), IW712 (93202-A AU FP WH), GW501U, GW708U, MW513, WA70T60GW1, WA70T60FW1, WA80T65FW1, WA55T56GW1, WA65T60GW1, WA80T65GW1, IW712, IW509 (93155 AU FP WH), IW810, IW811, GW600B-U, GW700B-U, GW701U, GW712AU, MW051-U, GW650A-U, IW709AU, GW608U (93136), GW603K, MW053U, GW709AU, GWC09, LW095, MW059AU, GW709, GW609AU, GW509AU (93145), AW095 (93142 WH)

May be known by other part numbers including: 1030207, 420324, 45940P, 426719P, 426956, 426956P, 59911300, 1618883, 1548166, 1792925, 1795416, FP003, FP004, FP005D, FP45940P, FP420324P