50297774-00/7 Dishwasher Drain Filter With Handle

This is a very popular part, it suits a range of brands all being made by Electrolux.

The filter consists of two parts and inner and an outer, they are easy to remove and install.

Brands that this will suit are Electrolux, Westinghouse AEG, Zanussi, Arthur Martin and several more.
Also Suits AEG Model 91123231702
Online Appliance parts can supply a complete range of replacement parts for Westinghouse and AEG& Appliances. If you are unsure whether this part is the correct one for your model, please& email us.& We're happy to help.&
May be known by other part numbers including: 0144400041, 0144400046, 1118591005, 1118754108, 1526612-02/1, 1689737, 1888844, 1613491, 1611177, 1611255, 1611479, 1611394, 1611779, 1611725, 1548775, 1611611, 1611982, 1611859, 1612477, 1613116, 1611925, 1612148, 1611880, 1612648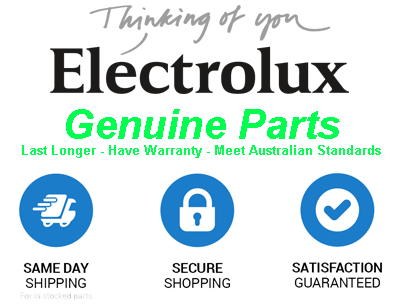 Suits Models: DX303SK, 911946238, DX303WK, 91194623701, 91194623801, 911946237, 91151602801, 91151602702, 91151903102, 91151903202, 91151504001, 91151903104, 911945228, 911945227, 911946236, 911946235, 52C870SK, 91154600802, 52C870WK, 91154600702, 91151503901, 91151503902, 91151504002, EX401ISB, 911926247, 91151902903, 91151903204, 91151903203, ESL9163, 911016208, 91151902902, 91151903002, SB916WK, 91194623301, SB916SK, 91194623401, 91194625800, ESL6143, 911935221, 91193522101, 911949216, 91151902904, 911635212, 911986227, 91154600801, 91151903003, 911546008, 911546007, 91151903004, 91198622701, 91192624701, 91151602802, 91151602701, 911519030, 911519029, F40860M, 91191662901, F60850VIM, 91194760500, F60860, 91191761401, F40760, 91191561201, 91192761900, FAV40860M, 911371108, FAV86080UM, 911373086, FAV60860, 911371107, FAV86070VI, 911372201, 91123231705, 911235074, FAV86050U-M, 911236214, 91123258301, SB907SJ*10, SB915KJ*08, SB915SJ*08, SB915WJ*08, SB925SJ*08, EX600ISC*01, DX302SJ-AA*00, DX302WJ-AA*00, DX302SJ-AA*01, DX302WJ-AA*01, DX302SJ-AA*02, DX302WJ-AA*02, DX302ISJ*04, DX302ISJ*05, EX403SJ*03, DX403SJ*03, 52B850SJ*06, 52B850WJ*06, EX302SJ*05, EX302WJ*05, 91191638404, 91191638503, 52B870WJ*08, 52B870SJ*08, 91191638504, EX403SJ*00, EX403SJ*01, EX403SJ*02, SB915KJ*06, SB915SJ*06, SB915WJ*06, SB925SJ*06, EX600ISB*02, EX500ISC*02, EX302WB*00, EX403SB*00, EX403WB*00, EX403IWB*00, DX103WK, 91151903107, DX302SJ*05, DX302SJ*06, DX203SK, 91151504005, DX301SK, 91151602805, 91151602807, DX301WK, 91151602703, 91151602804, 91151602707, 91151903105, FAV6050I-M, 911234176, 91123417601, 91151602705, 91151602808, DX103SK, 91151903206, F86080FUM, 91194760700, WDF901SA, 91191530400, 91191530300, 91151903109, FAV6050, W, 911232247, FAV4270I-M, 91123443302, FAV54750VI, 911796048, FAV6050-W, 91123215701, FAV6050W, 911232049, 91123204901, ESF68040X, 91191861300, DX203WK, 91151503903, 91151504003, 91151503904, 91151503905, 91151504006, 91151504007, 91191861302, FAV86050UM, 91123621401, 91151903208, FAV6081W, 911232317, 91191530402, 91191530302, WDF902WA, 91191638402, WDF902SA, 91191638502, WDU903SA, 91194626800, 91191638400, 91191638500, ESF65060W, 91191562000, ESF65060X, 91191562100, 91151903108, FAV4270IA, 911234664, 52C850WK, 91151902908, FAV80850IM, 91123466500, F89020IM, 91192863702, 91191530301, 91191530401, FAV4070W, 91123231600, 91151903207, 91151903205, FAV6050I-W, 911234174, 911234175, 91123417401, FAV6050I-B, 91123417501, FAV86070IM, 911372200, F44080IM, 911925650, FAV80800W, 911232427, 91123231601, FAV44080IM, 911372199, FAV44050UM, 91123621300, EX601SC, 91194625804, F88025VIM, 91194461005, ESF66060X, 91191666000, 91151903209, 91194461000, 91194461006, 91192863700, 91194626802, 91194626804, 91123466401, SB926WK, 91194623502, SB926SK, 91194623602, FAV85060VI, 91123507402, F88015VI, 91193460700, 91191638401, 91191638501, ESL66010, 91193625400, FAV8081I, M, 91123442901, 91194625802, 91193625403, F86070IM, 91192761301, 52C850SK, 91151903006, ESL4143, 91163521201, FAV6281IM, 91123443601, FAV6281IW, 91123443701, FAV6281IB, 91123443801, 91194625803, FAV4270IM, 911234433, ESL6163, 91198622702, FAV60850VIM, 911373087, FAV40730W, 911371041, 91193625401, 91123466501, F86070VI, 91193760601, 91151903106, 91191562102, 91192563401, 91194626803, 91192863703, ESF6125X, 91194921601, 91194626805, 91191562104, 91193460703, 91151902905, 91191562101, 91191562001, 91191562002, 91191666002, 91151902907, F88080IM, 91192861502, FAV88080IM, 91137220200, 91193625402, 91151902906, 91193460704, 91151903005, 91191666001, F65411VI, 91163624306, 91151902909, 91193460706, 91151903008, 91163624300, 91151903007, 91151903009, 91193460705, 91123443603, FAV40760, 911371106, 91151504004, 91151602800, 91151602806, 91151602700, 91151602706, 91123443600, 91123443700, 91123443800, 91123443602, 91123443702, 911519032, 911519031, 91151503906, 91151503907, FAV86050IM, 911235073, 91123507301, FAV60820W, 91123258401, DX303SL, 911946252, DX303WL, 911946253, 91191530403, 91191530303, 91194626806, SB908WK, 91194522701, SB908SK, 91194522801, 91151903101, FAV88050IM, 91123483103, DX301SK PNC91151602805, DX302WJ*06, DX302WJ*05, ESF68040X (91191861300), ESF68040X (91191861302), WDF901WA, 52B890SJ*00, 52B890WJ*00, SB915SJ*01, SB907SJ*00, SB907SJ*01, DX403SB*00, 52B870WJ*01, DX403WB*00, DX302WB*02, 52B870SJ*00, DX403IWB*00, SB915KJ*01, SB925SJ*00, SB915WJ*01, DX302SB*01, DX302WB*01, 52B870SJ*01, SB915KJ*00, DX302SB*02, SB915SJ*00, SB907WJ*01, 52B890WJ*01, 52B890SJ*01, SB907WJ*00, DX302WB*03, SB925SJ*01, DX302SB*03, EX302SB*01, DX302SB*00, SB915WJ*00, EX302WB*01, 52B870WJ*00, DX302WB*00, DX102SB*00, 52B850WJ*00, DX102WB*00, 52B850SJ*00, DX403WB*02, DX403SB*02, DX403IWB*03, DX403IWB*02, DX403WB*03, DX403SB*03, DX403IWB*01, DX102WB*02, DX102SB*02, DX102WB*01, DX102SB*01, DX403WB*01, DX403SB*01, EX403WB*01, EX600ISB*00, EX403SB*01, EX600ISB*01, EX500ISC*00, EX500ISB*01, EX600ISB*03, EX500ISB*00, EX403WB*03, EX403WB*02, EX403SB*03, EX403SB*02, EX302WB*03, EX302WB*02, EX302SB*03, EX302SB*02, SB907WJ*10, SB907SJ*08, SB915KJ*07, SB915WJ*05, SB915WJ*07, SB907SJ*05, SB915WJ*02, SB907WJ*02, SB907SJ*02, SB907SJ*09, 52B890SJ*06, SB915KJ*05, SB925SJ*03, SB925SJ*04, 52B870SJ*06, SB925SJ*02, 52B890WJ*06, SB915KJ*02, SB925SJ*07, 52B870WJ*06, SB915KJ*04, SB915SJ*04, SB907WJ*08, SB907SJ*04, SB915SJ*05, SB907SJ*07, SB915SJ*02, SB915SJ*07, SB907WJ*07, 52B870SJ*02, SB907WJ*05, SB907WJ*06, SB907SJ*03, SB915WJ*04, 52B890WJ*02, SB907WJ*03, SB907SJ*06, SB915WJ*03, SB915SJ*03, SB915KJ*03, 52B870WJ*07, 52B870SJ*07, SB925SJ*05, 52B870WJ*02, SB907WJ*04, SB907WJ*09, 52B890SJ*02, 52B850WJ*05, 52B850SJ*01, 52B850WJ*04, 52B850SJ*04, 52B850SJ*07, 52B850SJ*05, 52B850WJ*08, 52B850WJ*03, 52B850SJ*03, 52B850WJ*07, 52B850WJ*02, 52B850SJ*02, 52B850WJ*01, DX302WJ*01, DX302SJ*01, DX302WJ*00, DX302SJ*00, DX302SJ*02, DX302WJ*02, EX302WJ*02, DX302ISJ*03, EX302WJ*00, EX302SJ*00, DX302ISJ*01, DX302ISJ*00, DX302WJ*04, EX302WJ*04, DX302SJ*04, EX302SJ*04, EX302WJ*03, EX302SJ*03, DX302WJ*03, DX302SJ*03, EX302SJ*02, DX403IWB*06, DX403WB*07, DX403WB*06, DX403SB*06, DX403IWB*05, DX403IWB*04, DX403WB*05, DX403WB*04, DX403SB*05, DX403SB*04, DX102SJ*00, DX102WJ*03, DX102SJ*03, EX600ISC*00, DX102WJ*01, DX102SJ*01, DX102WJ*00, DX102WJ*02, DX102SJ*02, 52B890WJ*05, 52B890SJ*05, 52B870WJ*05, 52B870SJ*05, 52B890WJ*04, 52B890SJ*04, 52B870WJ*03, 52B870SJ*03, 52B870WJ*04, 52B890SJ*03, 52B870SJ*04, 52B890WJ*03, DX403SJ*02, DX403SJ*01, DX403SJ*00