Part Number 818731475 Over Temp Thermostat 190° Smeg Oven GENUINE Part Appliance Spare Parts online
Items listed for Wall Ovens may be suitable for upright stoves, cooktops and freestanding ranges. Omega, Smeg and Blanco parts may be cross-compatible with each other.
Online Appliance Parts can supply a complete range of Genuine Smeg Spare Parts. If you can't find the spare part you are looking for, please contact us and we'll be happy to help you.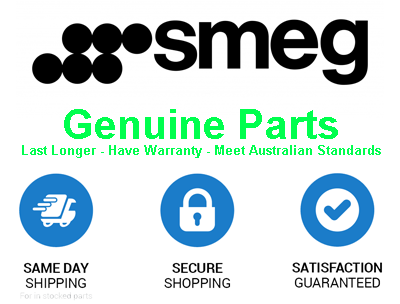 May be known by other part numbers, including: 818730550, 1737895
Suits Models: OF602XA, OFGG7GVXA, A2, A2A, A2D, ALFA100X, AP410X, AP420X, APF2B/1, APF2N/1, APF6B/1, APF6N/1, B102MFX5, B70CMSX5, B70MFX5, B70MSX5, B71MFX5, B71MXBE5, B72MFX5, C6GMLI, C6GMNNL, C6GMX, C6GMXD, C6GMXI, C6GMXNL, C6GMXNLB, C6GVXI, C7GMXI, C7GMXNL, C7GPX, C7GVXI, C92DX, C92GMNNL, C92GMX, C92GMXNL, C92GPX, C92IPX, C9GMBNL, C9GMLI, C9GMNNL, C9GMRNL, C9GMXI, C9GMXNL, C9GMXNLB, CA61VM, CB51EVX, CB51SV, CB51VE, CB51VEY, CB51VM, CB51VMY, CB60EMS5, CB61EVX, CB61SV, CB61VE, CB61VES, CB61VEY, CB61VM, CB61VMS, CB61VMS-5, CB61VMY, CB66CES, CB66CES1, CB81VE, CB81VEY, CB81VGT, CB81VGTY, CB81VGY, CB90EV, CB90EV-1, CB90GY, CB90SV, CB91VG, CB91VGMA, CB91VGY, CB92VM, CB92VMY, CC62MFX5, CC92MFX5, CC92MFX6, CE6CMX, CE6GMLI, CE6IMX, CE92CMX, CE92GPX, CE92IMX, CE92IPX, CG92N, CG92X, CIX64MS, CL60FCEX, CL60FGAX, CN61MF-5, CO61CMA, CO61CMP, CO61GMA, CO61GMADE, CO61GMAI, CO61GMP, CO61GMPDE, CO61GMPI, CP60IX, CP60X7, CS20NL, CS20NLA, CSP19-6, CX51EVX, CX51EVX-1, CX51GVE, CX51M, CX51SV, CX51VE, CX51VM, CX51VM-5, CX60EMS5, CX61EAG, CX61EVX, CX61EVX-1, CX61GVE, CX61M, CX61MLPZ5, CX61MPZ, CX61MSPZ5, CX61SV, CX61VE, CX61VM, CX61VM-5, CX61VML, CX61VML-5, CX61VMLS, CX61VMLS5, CX61VMN, CX61VMN-5, CX61VMPZ5, CX61VMS, CX61VMS-5, CX66EMS5, CX66MN, CX66MN-5, CX66MS, CX66MS-5, CX66MS-6, CX66MSPZ5, CX81EVX, CX81EVX-1, CX81GVET, CX81MT, CX81SV, CX81VG, CX81VGT, CX81VM, CX81VMT, CX81VMT5, CX81VMT-5, CX81VMTT5, CX91EVX, CX91EVX-1, CX91GVE, CX91M, CX91VG, CX91VGMA, CX91VGMA1, CX91VM, CX91VM-5, CX92M, CX92VM, CXL61VM, CXL61VM-5, CXL81VMT, CXL91VM, DCCB 5269, DO67CAS, DO67CCS, DO67CGS, DS96MFX7, DUCO4SS, DUCO8CBL, DUCO8CSS, EBB7143X, EBH7140B, EBH7140W, EBH7140X, EBH7143B, EBH7143W, EBH7143X, F166, F166S, F170, F170K, FA166, FA170, FE360, FP610AB, FP610AN, FP610SBL, FP610SG, FP610SV, FP610X, FS60WHNG, FS60XNG, FS61MFX, FS61MFXLP, FS61WHNG, FS61XLPG, FS61XNG, FS61XPZ5, FS67MFX, HE2595B, HE2595X, ISO600/1, JLFSEC604, JLFSEC606, JLFSMC603, JLFSMC605, JLRC902, JLRC903, JRS30GIBB, JRS30GIBS, JRS30GIBW, JRS31GIBB, JRS31GIBS, JRS31GIBW, KE250X, KE280X, KE455X, KE485X, LF66105SS, LF67105SS, MCP48X, NL71SPMF5, NL91SPVG, NL91SPVG6, NUR280X, OF601XA, OF602XA, OFGG7GVXA, S10XMF/1, S200/1, S200EB/1, S200X/1, S20XMF, S20XMF.1, S20XMF-5, S20XMF-7, S20XMFR.1, S320X/1, S340/1, S340EB/1, S350X/1, S350X1, S350XB, S351X, S360X/T, S365X-1, S370/1, S370AV-1, S370EB/1, S370EB/T, S370EB/T2, S380X/1, S380X/T, S380X/T2, S381X, S399X, S400/1, S400EB/1, S500/1, S500EB/1, S500X/1, S550/1, S550EB/1, S550X/1, S551X, S709X-7, S995XTSA, SA206EB, SA206X, SA208EB, SA208X, SA20XMF, SA20XMFR, SA210P, SA210X/1, SA22XMF, SA22XMF-5, SA22XMF-7, SA240X, SA250X, SA280X, SA280X/1, SA301X, SA305X, SA310X, SA360EB/1, SA360X/1, SA375EB, SA375X, SA375X-1, SA380X/3, SA385EB, SA385X, SA386W, SA386X, SA392EB/1, SA392NE/1, SA398X/1, SA410EB, SA410X, SA420EB, SA420X, SA420X/1, SA440X, SA62MFX5, SA650EB1, SA650NE1, SA705X-7, SA707X-7, SA708X-7, SA710X-7, SA81VG, SA81VGMA, SA850P, SA850X, SA850X/1, SA890WR-5, SA920MF/2, SA920MFA1, SA920MFW2, SA92MFX5, SAP109-8, SAP109M-8, SAP112-8, SAP306X-8, SAP399X-8, SB81VG, SB81VGY, SB91VG, SB91VGMA, SB91VGY, SB93VGY, SB93VGYMA, SCA705X, SCA706X, SCA708X, SCA709X, SCA710X, SCB60MFB, SCB60MFB5, SCB60MFX, SCB60MFX5, SCB60MFX6, SCB60MFX7, SCB61MFX, SCB61MFX5, SCB66MFB, SCB66MFB5, SCB66MFX, SCB66MFX5, SCB66MFX6, SCB66XPZ5, SCB80GX, SCB80MFX5, SCB90GX, SCB91GX, SCB92MFA5, SCB92MFN5, SCB92MFRW, SCB92MFX5, SCB92MPN, SCB92MPRW, SCB92MPX5, SCD60EMX5, SCD60MFX, SCD60MFX5, SCD60MFX6, SCD60MFX7, SCD61CMA5, SCD61CMX5, SCD61GVE, SCD61MFA5, SCD61MFX, SCD61MFX5, SCD61XPZ5, SCD80MFX5, SCD80MFX6, SCD81MFX, SCD81MFX5, SCD90GX, SCD92MFX5, SCD93GX, SCE60MFX, SCE60MFX5, SCE61MFX, SCE61MFX5, SCE80GX, SCE80MFX, SCE80MFX5, SCE90GX, SCE91GX, SCP108-8, SCP108AL8, SCP108B-8, SCP108N-8, SCP108R-8, SCP108RB8, SCP108RN8, SCP108RS8, SCP108SG8, SCP109-8, SCP109B-8, SCP109N-8, SCP109SG8, SCP112-8, SCP112B-8, SCP112N-8, SCP112PZ8, SCP112SG8, SCP113-8, SCP113N-8, SCP113SG8, SCP115, SCP115A, SCP115A-1, SCP115X, SCP12-8, SCP399X-8, SCP480X-8, SCP490B-8, SCP490N-8, SCP490X-8, SCP495B-8, SCP495N-8, SCP495X-8, SCP496N-8, SCP496X-8, SCP570X-8, SCP805A-8, SCP805AO8, SCP805P-8, SCP805PO8, SCP99X-8, SDK250X, SDK455X, SDK500XM1, SDU10, SE100EB/1, SE100NE/1, SE100X/1, SE101EB, SE101NE, SE101X, SE1045B, SE105EB/1, SE105NE/1, SE105X/1, SE106EB/1, SE106NE/1, SE106X/1, SE108EB/1, SE108NE/1, SE108X-1, SE10XMF/1, SE206EB/1, SE206GB, SE206NE/1, SE206X/1, SE206X/T, SE20XMFR, SE20XMFR1, SE20XMFR5, SE20XMFR7, SE210AZ/1, SE210B/1, SE210EB/1, SE210EBK1, SE210MXK1, SE210NE/1, SE210NEK1, SE210P, SE210VA/1, SE210VS/1, SE210X/1, SE210XK/1, SE240X, SE250X, SE250X-1, SE250XUK, SE280MF, SE280MF1, SE280MFB, SE280MFB1, SE280X, SE286X, SE290X, SE320/1, SE320EB/1, SE320X, SE320X/C, SE330/1, SE330B/1, SE330EB/1, SE330X, SE335BL, SE335BR, SE335GR, SE335SS, SE335SS/1, SE335WH, SE340/1, SE340EB/1, SE340EBC, SE360/C, SE360EB/C, SE360X/C, SE365MF/1, SE365MFB1, SE365MFX, SE375MEB1, SE375MF/1, SE375MFB1, SE375MFG1, SE375MFX, SE380X/1, SE380XK/1, SE385MF/1, SE385MFB1, SE392MF/1, SE392MFB1, SE398X/1, SE399LX, SE460X, SE465X, SE485X, SE598X, SE650MF1, SE650MFB1, SE810MF/1, SE810MFB1, SE820MF/1, SE820MFB1, SE90/1, SE900, SE900X, SE90EB/1, SE90MB/1, SE90X/1, SE910MFA, SE910MFB1, SE910MFF1, SE910MFP, SE910MFV1, SE96/1, SE96EB/1, SE96MB/1, SE96X/1, SE995XT-5, SE995XT-7, SI800, SI800A, SI800AV, SI800EB, SI800GB, SI800MF, SI800MFA, SI800MFEB, SI800MFP, SI800MFV, SI800P, SI800V, SI850A, SI850GB, SI850P, SI850X, SID61MFX5, SIL206EB1, SIL206NE1, SIL206X, SIL250EB, SIL250X, SIL61VM, SIL61VML, SIL63MFA, SIL63VML, SIL650MF, SM800/1, SM800A, SM800B/1, SM800EB/1, SM800MEB1, SM800MF/1, SM800MFA1, SM800MFB1, SM800MFP1, SM800MFV1, SM800P/1, SM800V/1, SNL60MFC5, SNL60MFX5, SNL60MFX7, SNL61MFA5, SNL61MFN5, SNL61MFX, SNL61MFX5, SNL61XPZ5, SNL81GX, SNL81MFX, SNL81MFX5, SNL90D, SNL90D7, SNL90DA, SNL90DA7, SNL90DNE, SNL90DNE7, SNL90MFC6, SNL90MFX6, SNL90MFX7, SNL91GX, SNL91MFA6, SNL91MFN6, SNL91MFX5, SNL91MFX6, SNL920MX5, SNL92MFA5, SNL92MFN5, SNZ106VML, SNZ360SS, SNZ360W, SNZ60EVX, SNZ61MFX, SNZ61MFX1, SO66CAS, SO66CAS.1, SO66CCS, SO66CCS.1, SO66CSS, SO66CSS.1, SP106VGL, SP106VML, SP206VML, SP680MFA, SP680MFA1, SP680MFD1, SP680MFG1, SP680MFP, SP680MFW1, SP71VGL, SP71VML, SP71VML-5, SP7800A, SP7800A/1, SP7800D/1, SP7800G/1, SP7800P, SP7800P/1, SP7800W/1, SP9000B.2, SP9000B/1, SP9000BR, SP9000BR1, SP9000BR2, SP9000G, SP9000G.2, SP9000G/1, SP9000W.2, SP9000W/1, SP9000X.2, SP9000X/1, SP91VGL, SSA60MFX, SUK61CMA5, SUK61CMFA, SUK61CMFX, SUK61CMX5, SUK61CPX5, SUK61MBL5, SUK61MFA, SUK61MFA5, SUK61MFWH, SUK61MFX, SUK61MFX5, SUK61MPX5, SUK61XPZ5, SUK62CBL5, SUK62CMX5, SUK62MBL5, SUK62MFA, SUK62MFA5, SUK62MFWH, SUK62MFX, SUK62MFX5, SUK62MWH5, SUK81MBL5, SUK81MFA, SUK81MFA5, SUK81MFX, SUK81MFX5, SUK92CBL5, SUK92CMX5, SUK92MBL5, SUK92MFA5, SUK92MFP5, SUK92MFX, SUK92MFX5, SX81GB, SX81M, SX81M-1, SX81VG, SX81VGMA, SX81VM, SX81VM-5, SX91M, SX91M-1, SX91VG, SX91VGL, SX91VGMA, SX91VM-5, SX91VML, SX91VML-5, SX93VG, SX93VGMA, W280X, W290X, W50BVE, W50XVE, W61BVM, W61XVE, W61XVM, W81CBVG, W81SXVG, W81XVMT, W91CBVG, W91SXVG, WE200/1, WE200EB/1, WE200X/1, WE206EB/1, WE206NE/1, WE206X/1, WE320, WE320EB, WE320X, WE320X/C, WE360/C, WE360EB/C, WE360X/C, WE380X, WE392, WE392EB, WE398X, WE800A, WE800GB, WE800MF, WE800MF/1, WE800MFB1, WE800MFEB, WI340/1, WI340EB/1, WI350X/1
Brand: Smeg
Product Code: 818731475