Part Number 882688 Fridge Large Door Shelf Fisher & Paykel GENUINE Part
Fisher and Paykel also provide Haier and Elba parts, and some parts may be cross-compatible.
Online Appliance Parts can supply a complete range of Genuine Fisher & Paykel Spare Parts. If you can't find the spare part you are looking for, please contact us and we'll be happy to help you.
Bottle shelf that fits the full width of the door.
Dimensions: width 597mm x depth 133mm. Suits all 680mm width refrigerator cabinets
Models E361T, E406B, E413T, E440T, E442B. Please note, the shelf does not include the metal bottle rail support - see part no 818850.
May be known by other part numbers including: 880255, 1546672, 1738607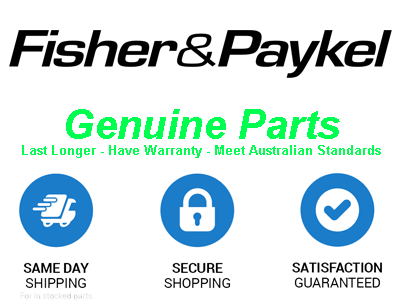 Suits Models: E406BLE – 21502-A – 21502-B – 21502-C -21502-E – 23007-A, E406BLE2 – 23269-A, E406BLE3 – 23702-A – 23702-B, E406BRE – 21501-A – 21501-B – 21501-C – 21501-E – 23006-A, E406BRE2 – 23268-A, E406BRE3 – 23701-A – 23701-B, E413TLE – 21504-A – 21504-B – 21504-C – 21504-E – 23009-A – 23009-B – 23009-C, E413TLE3 – 23703-A – 23703-B, E413TLT – 21514-A - 21514-B - 21514-C - 21514-E – 23013-A – 23013-C, E413TLT3 – 23705-A- 23705-B,, E413TRE – 21503-A – 21503-B – 21503-C – 21503-E – 23008-A – 23008-B – 23008-C, E413TRT – 21513-A - 21513-B - 21513-C - 21513-E – 23012-A – 23012-C, E413TRT3 – 23704-A - 23704-B, E440TLE – 21506-A – 21506-B – 21506-C - 21506-E – 23015-A – 23015-B - 23015-C, E440TLE – 21540-A - 21540-B - 21540-C - 21540-E, E440TLM – 21532-A - 21532-B - 21532-C - 21532-E - 21532-F – 23029-C, E440TLMD - 21548-A - 21548-B - 21548-C, E440TLT – 21516-A - 21516-B - 21516-C - 21516-E – 23024-A – 23024-B – 23024-C, E440TLT2 – 23283-A, E440TLT3 – 23711-A – 23711-B – 23711-C, E440TLX – 21524-A - 21524-C - 21524-D - 21524-E - 21524-F – 23030-A - 23030-B - 23030-C, E440TLX2 – 23289-A, E440TLX3 – 23715-A – 23715-B, E440TRE – 21505-A – 21505-B – 25105 –C – 21505-E - 23014-A – 23014-B – 23014-C, E440TRE – 21539-A - 21539-B - 21539-C - 21539-E, E440TRE2 – 23274-A, E440TRE3 – 23706-A – 23706-B – 23706-C, E440TRM – 21531-A - 21531-B - 21531-C - 21531-E - 21531-F – 23028-A – 23028-C, E440TRMD - 21547-A - 21547-B - 21547-C, E440TRT – 21515-A - 21515-B - 21515-C - 21515-E – 23023-A – 23023-B – 23023-C, E440TRT2 – 23282-A, E440TRT3 – 23710-A – 23710-B – 23710-C, E440TRX – 21523-A - 21523-C - 21523-D - 21523-E - 21523-F - 23031-A - 23031-B, E440TRX2 – 23290-A, E440TRX3 – 23716-A – 23716-B, E442BLE – 21508-A – 21508-B – 21508-C – 21508-E - 21542-A - 21542-B - 21542-C - 21542-E – 23044-A, E442BLE2 – 23303-A, E442BLE3 – 23722-A – 23722-B, E442BLE4 – 24074-A, E442BLM – 21534-A - 21534-C - 21534-D - 21534-E - 21534-F – 23058-A, E442BLMD - 21550-A - 21550-B - 21550-C, E442BLMFD - 21942-A - 21942-B - 21942-C - 21942-D – 23064-A – 23064-B, E442BLT – 21518-A - 21518-B - 21518-C - 21518-E – 23054-A, E442BLX – 21526-A - 21526-C - 21526-D - 21526-E - 21526-F – 23067-A, E442BLX2 – 23322-A, E442BLX3 – 23728-A, E442BLX4 – 24081-A, E442BLXFD - 21960-A - 21960-B - 21960-C – 23081-B, E442BLXFD3 – 23736-A, E442BLXFD4 – 24090-A, E442BLXFDU4 – 24093-A, E442BRE – 21507-A - 21507-B - 21507-C - 21507-E - 21541-A - 21541-B - 21541-C - 21541-E – 23043-A, E442BRMD - 21549-A - 21549-B - 21549-C, E442BRE2 – 23302-A, E442BRE3 – 23721-A – 23721-B, E442BRE4 – 24073-A, E442BRM – 21533-A - 21533-C - 21533-D - 21533-E - 21533-F – 23057-A, E442BRM2 – 23313-A, E442BRMFD - 21941-A - 21941-B - 21941-C - 21941-D – 23063-A – 23063-B, E442BRMFDU - 22189-A - 22189-B – 22255-A – 22256-A – 23065-A – 23065-B, E442BRMFDU – 23320-A, E442BRMFDU NZ, E442BRMFDU, E442BRXFDU NZ, E442BRXFDU – 22279-A – 22280-A, E442BRT – 21517-A - 21517-B - 21517-C - 21517-E – 23053-A, E442BRWFD4 – 24320-A, E442BRX – 21525-A - 21525-C - 21525-D - 21525-E - 21525-F – 23066-A, E442BRX2 – 23321-A, E442BRX3 – 23727-A, E442BRX4 – 24080-A, E442BRXFD - 21959-A - 21959-B - 21959-C – 23080-A – 23080-B, E442BRXFD – 23670-A – 23671-A, E442BRXFD2 – 23331-A – 23332-A, E442BLXFD 2, E442BRXFD3 – 23735-A, E442BRXFD4 – 24089-A, E442BRXFDU - 22185-A – 23088-A – 23088-B, E442BRXFDU – 23672-A, E442BRXFDU2 – 23335-A, E442BRXFDU3 – 23739-A, RF440TCLW1 – 23003-A, RF440TCRW1 – 23002-A, E442BRXFD (21959-C), E440TLE 23015-A, E440TLE 23015-B, E440TRT, E442B, E4428, E522BRE, E442BR, E406BRT, E440TL, E361T, E440T, E406B, E413T