Part Number 8905145FW Detergent Dispenser Global Dishlex Global Dishwasher GENUINE Part
Electrolux are the owners of the AEG, Chef, Dishlex, Electrolux, Kelvinator, Simpson, and Westinghouse names, as well as older Hoover. Parts for any of these brands may be cross-compatible with each other.
Online Appliance Parts can supply a complete range of Genuine Dishlex Spare Parts. If you can't find the spare part you are looking for, please contact us and we'll be happy to help you.
Also suits many other makes and models including Smeg, Blanco, Omega, Westinghouse, Simpson and more. If your dispenser has 2 wires (only one coil) then this can & and will replace it.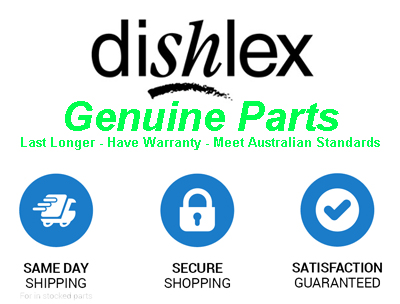 Suits Models: DX100KA*03, DX100SA*03, DX100WA*03, K100WA*03, DX100KA*03, DX100SA*03, DX100WA*03, K100WA*03, DX300KA*02, DX300SA*02, DX300WA*02, DX500WA*00, DX500IWA*00, DX500KA*00, DX500IKA*00, DX450KA*01, DX450IKA*01, DX450SA*01, DX450WA*01, DX150WA*00, DX100KA*01, DX100KA*02, DX100SA*01, DX100SA*02, DX100KA*01, DX100KA*02, DX100SA*01, DX100SA*02, DX100WA*01, K100WA*01, DX100WA*01, K100WA*01, DX100WA*02, K100WA*02, DX100WA*02, K100WA*02, DX150WA*02, K150WA*02, DX150WA*02, K150WA*02, DX500KA*01, DX500IKA*01, DX500SA*01, DX500WA*01, DX450KA*00, DX450IKA*00, DX450SA*00, DX450WA*00, DX300KA*01, DX300SA*01, DX300WA*01, DX500KA*02, DX500IKA*02, DX500SA*02, DX500WA*02, DX100KA*00, DX100SA*00, DX100WA*00, DX300KA*00, DX300SA*00, DX300WA*00, DX150WA*01, K150WA*01, DX150WA*01, K150WA*01, K100WA*00, K100WA*00, DX450KA*02, DX450IKA*02, DX450SA*02, DX450WA*02, K150WA*00, K150WA*00, DX500IWA*02, DX450IWA*00, DX500SA*00, DX500IWA*01, DX450IWA*01, DX450IWA*02, DX100FBK*A, DX100FBS*A, DX100IWW*A, DX100FWW*A, DX150MWW*A, 8945BK/WW, 8947BK/WW, 8948BK/WW, 8965BK/SB/WW, 9095BK/SB/WW, 897BK/SB/WW, 8988BK/WW, DX500IWW, DX500IBK, DX500ISB, DX500FWW, DX500FBK, DX150IWW*A, DX150FWW*A, 8941WW, 8971WW, 8942WW, 8972WW, 8943WW, 8973WW, DXCLRIWW*A, DXCLRISB*A, DXCLRFWW*A, DX200IBK, DX200IWW, DX200FBK, DX200FWW, DX300IWW, DX300IBK, DX300ISB, DX300FWW, DX300FBK, DX450IWW, DX450IBK, DX450ISB, DX450FWW, DX450FBK, 8915WW/BK, 8917WW/BK, 8931WW, 8951WW, 8932WW, 8956WW, 8967BK/SB/WW, 8968BK/WW, 8965BK, 8968WW, 8968BK, 8917WW, 8987WW, 8987BK, 8987SB, 8933WW, 8953WW, 8917BK, 8915BK, 8915WW, 8985WW, 8985BK, 8988WW, 8988BK, DX500FBS, DX300FBS, 89, 8956WW, 8916WW, 8955WW, 8957WW, 8935WW, 8937WW, 8903WW, 8904WW, 8913BK, 8913WW, 8914BK, 8914SB, 8914WW, 8905WW, 8907WW, DX450FBK, DX450FWW, DX450ISB, DX450IBK
May be known by other part numbers including: 1615496, 1614919, 1615240, 1615178, 4150600, 8905145, DWU003, DW703