DWK001 Spring Kit - Pair Electrolux Chef Oven Parts 2-Pack
These Spring fit onto the hinges which were inside the walls of the oven. (not models that have the hinges inside the door)
These springs are the genuine product manufactured by Electrolux (Chef) and are the correct ones for your stove. There are cheap imitations of this spring around, many of which have too much tension. Extra tension DOES NOT fix anything. It simply causes your hinges to wear out more quickly. On some occasions it has been known to cause doors to slam and the glass to smash. Please don't risk it.
Please note: if your door is not closing properly, it may be the hinges that are the problem and replacing the spring may not fix it. Check for wear on the rollers and the cam bar, and if you're in any doubt please contact us and we can help.
This spring was supplied as original equipment on virtually all chef stoves from about 1980 onwards.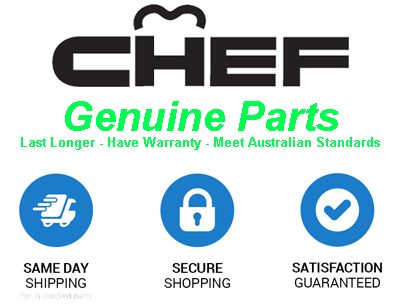 May be known by other part numbers including: 01787, 49117, 9737, 1879154, 1555659, 1563813
Suits Models: 089ED16, 089ED, 089GBFUB16, 089GBFUB, 115E7FM26, 115E7FM20, EC, 058E4, 058E2P1, 099G4F18, VEWOCUAFM, GUBAMFWHK, EUBAMFPBL, VEWOCUAFMM, GWOBIAMFBL-P, GWOBIAMFM-N, EUBAMFSS, EUBAMFPM, GWOCAMFWHK-N, VEWOCUAFMW, GWOBIAMFM-P, GWOBIFMB-N, GWOBIAMFW-L, GWOBIAMFW-N, GUBAMFWHK-T, EUBMFPB, EUBAMFPW, GWOMCFMW-B, GWOBIW-L, GWOCAMFWHK-P, VEWOCUAFW, GWOBIW-N, GWOBIAMFW-B, GWOBIFMBL-P, GWOBIFMW-N, GWOBIFMB-P, GWOBIFMA-P, GWOBIFMB-B, GWOBIB-N, GWOBIAMFW-P, VGWOCUAFMM-N, GWOBIAMFB-N, CGUC89NB, EUBMFPBL, GWOBIAMFBL-N, GWOMCFMB-P, VEUBAFM, GWOMCFMW-N, GWOCAMFW-P, GWOCUAMFMW-P, GWOCUAMFMW-B, EUBAMFPB, GWOCUAMFMM-B, GWOCUAMFMM-P, GWOCAMFM-P, GWOBIW-P, GWOBISLW-P, GWOBIWHK-N, GWOBISRW-N, GWOBISRW-P, GWOBISLW-N, GWOBIFMW-P, GWOBIFMW-L, GWOBIFMW-B, GWOBIFMBL-L, GWOBIFMBL-N, GWOBIFMB-L, GWOBIFMBL, GWOBIFMA-N, GWOBIB-P, GWOBIBHK-N, GWOBIB-B, VGUBAMFBL-P, EWOGLFMBL, VGUBAMFBL-N, EWOCIMFPB, GUBAMFBHK, CGUC89NM, EWOCIMFM, EUBMFPW, GWOBIAMFB-P, GWOBIWHK-P, VGW0CIMFW-N, VGW0CIMFBL-N, VEUBAFW, VEUBAFSS, VEUBAFBL, GWOMCFMW-P, VGUBAMFW-N, GWOCUAMFMW-N, GWOMCFMB-B, GWOCUAMFMW-T, EWOCIPBL, GWOCUAMFMW-L, GWOCUAMFMM-L, GUBAMFBHK-T, GWOBIAMFBL-B, GWOCAMFW-N, GWOCUAMFMM-N, EWOCIPW, EWOCUAMFMW, EWOCIPB, EWOCISS, GWOCAMFM-N, EWOCIMFSRB, EWOCUAMFMM, EWOCIMFSLB, VGUBAMFW-P, GWOBIW-B, ERVUBAMWJ, CEW0CAFB, CEW0CAFW, CEWOCAFB, CEWOCAFW, EWOBIAMFB, EWOBIAMFBL, EWOBIAMFM, EWOBIAMFW, EWOBIAMPB, EWOBIAMPBL, EWOBIAMPM, EWOBIAMPW, EWOBIB, EWOBIFMA, EWOBIFMB, EWOBIFMBL, EWOBIFMDG, EWOBIFMPB, EWOBIFMPW, EWOBIFMW, EWOBIFPW, EWOBIFW, EWOBIPB, EWOBIPW, EWOBIW, EWOCAMFM, EWOCAMFMM, EWOCAMFMW, EWOCAMFW, EWOCCIMFW, EWOCIFBS, EWOCIFSS, EWOCIFW, EWOCIFWS, EWOCIMFBL, VGWOCUAFMW-B, CEUC89W, CEUC89M, EWOCIMFPBL, EWOCIMFPW, EWOCIMFB, VGWOCUAFMW-N, GWOMCFMB-N, GWOBIAMFM-B, VGW0CAMFW, VGWOCUAFMM-L, VGWOCUAFMM-B, VGW0CIMFW-P, EWOGLFMW, VGW0CIMFBL-P, EWOHCPFW, EWOHCPW, LX0702BL, LX0702BR, LX0702MR, LX0702WH, LX0701BL, LX0701BR, LX0701MR, LX0701WH, TC70B, TC70W, VEWOBIFMBL, VEWOBIFMW, VEWOCAFMW, VEWOCIMFBL, VEWOCIMFW, EWOHCPFZW, GUBMFBL, GUBMFB, EWOCIMBL, EWOCIMFW, GUBAMFBL, EWOCIB, EWOCIBL, EWOCIW, EWOCIMB, EWOHCPZW, GUBAMFSS, GUBMFW, GUBAMFM, GUBAMFW, GUBAMFB, VGWOCIMFW, GWOCIMFBL, GWOCIMFW, GWOCIB, GWOCIBL, GWOCIW, VGWOCIMFBL, GWOCIMFB