0122004420 Small Element 145 Solid Hotplate W/Ring 1500W - Low Profile - Spade Terminals

This is a genuine Electrolux element (who are the manufacturers of Chef, Simpson Westinghouse and AEG) The element itself is made by 'EGO', and bears ego part number 13.88283.103 (large) and 13.84283.103 (small) It has a low profile Chrome trim attached which is 5mm tall. The element has 2 spade terminals which the wires clip onto.& this one also comes with a pressed steel mounting plate which attaches like a cover underneath.
Fits many stoves including Chef, Simpson, Westinghouse, Whirlpool and more.
Corresponding Large Cooktop Element: Large: 2000W 8" 0122004421,Also known as stokes 3401,ES5559 and many others.
If replacing 0122004366 (64A354B*00 64A354W*00 PAD501RS*00 75A975W*05 75B954W*01 75B975W*01), use short spacer 445300. Otherwise use existing short spacer.
May be known by other part numbers including: ES5560, 13.14463.030, 3402, 1560802, 1555931, 1555930, 1556960, 1556689, 1567852, 1567806, 1556509, 1566009, 1568956, 1557134, 1557201, 1567763, 1556754, 15559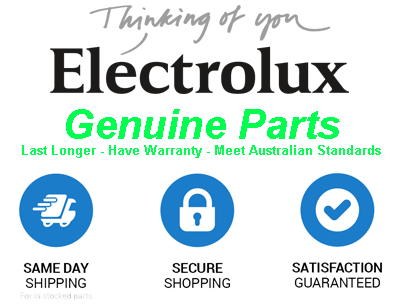 Suits Models: 75B954W*02, EPRIFZW, EPRIZW, ESEFZW, ESPMFZW, ESPUMFZW, ESR2FZW, ESR2ZW, ESRFZW, ESRZW, RET9FZW, RET9ZW, EECR031W, EECL031W, PHH466W*08, EBC5231W*04, 75C805W*08, PHH266MK*08, PHH255W*08, 64C354W*08, EBC5231W, PAK520W, 61D924W*00, 75C975W*08, PHH266K*08, PAJ144W*00, PAK501RS*03, PHH365W*08, PAK520W*40, EBC5271W, EBC5211W, EBC5211W*04, PAK144W, 64C825W*08, PHH164W*08, POH774W*08, 61D811W*00, EBC5451W, 64C946W*08, PAK501RS, 61D925W*00, PHH466K*08, PAJ520W*00, PHH255K*08, PAJ501RS*00, PHH266W*08, PHL466K*26, PAJ501RS*27, PAJ144W827, PAJ502W*19, PAJ502W*13, PHL466K*01, PAJ501RS*19, PHL266W*26, PAJ501RS*13, PHL266K*26, PHL266K*00, PAJ144W*19, EHS910W*11, PHL466W*00, PAJ144W*13, PHL266W*00, PHL466W*26, PHL466K*00, PAJ520W*27, PHL266W*01, PHL266K*01, PHL466W*01, 61D920W*15, 61D811W*19, 61D813W*19, EBC5040W*20, EBC5040W*19, EBC5040W*04, 61D925W*19, 61D925W*15, 61D920W*19, 61D813W*04, EBC5040W, PHH266K*12, PHH266W*12, PHH255W*12, PHH255K*12, PHH255CW*12, PHH466W*12, PHH466K*12, PHH365W*12, PHH365K*12, 64C825W*14, 66E202W, EEC1350W-R*29, EEC1350W-L*29, EEC1350W-R*27, EEC1350W-L*27, EEC1350W-R*20, EEC1350W-L*20, EEC1350W-R, EEC1350W-L, EPSZ631W, EPSZ611W, PPL775W, PHH255CW, EUC5140W*19, EUC5140W*04, EUC5370W*20, EUC5370W*19, EUC5370W*04, EUC5340W*20, EUC5340W*19, EUC5340W*04, EUC5140W*20, 61F920W, 61F925W, 61F920WP, 61F813W, 61F811W, 64C354W*14, EUC5140W, EUC5370W, EUC5340W, PHH365K*08
Related Products