P6450 Dryer Wall Mounting Kit Fisher and Paykel
Includes wall spacers to hold dryer away from the wall.
This is a genuine Fisher and Paykel replacement Part. All F&P spare parts come with a full 12 months manufacturer's warranty.
Fisher and Paykel parts are often interchangeable with Haier.
Suits virtually all Fisher and Paykel dryers.
Not suitable for models beginning with DE60, DE80 and top loading dryers.
The old 502067 single bar design is now obsolete, and this is the genuine replacement.
May be known by other part numbers including: H0020103152B, 502067, X_0020103152, 1917010, 1889303, 1648360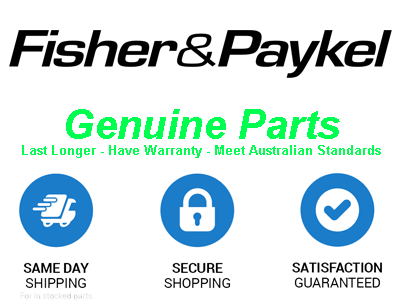 Suits Models: HDV50E1, HDV60A1, HDV60E1, HDV40A1, AD39, AD55AU 93214B, AD39AU, ED56 (93215-A), DE40F56 (93212-A 1), DE35F56AW1 (93007-A), AD39U, DE60F60EW1, ED55-U, DE45F56A (93008), DE50F56A (93216-A), DE50F56A (93234-A), ED56, ED56 (93215-B), ED57 (93111-A), AD53U, DE50F56E (93218-A), DE45F56 (93104-A DE45F56AW), DE45F56EW1 (93010-A), ED57, DE40F56 (93188-A 2), DE35F56AW1 (93101-A), DE45F56EW1 (93104-A), DE45F56EW1 (93108-A), AD55AU 93214A, ED56 (93158-B), DE45F56AW1 (93008-A), ED56 (93158-A)