147112300 Drain Pump Simpson Washing Machine SWF10761
This parthas now been superseded by New part Number 0499200049


Suits Simpson Washing Machine models and more.
**please note there can be some variations in these machines. Please check the "PNC" number as well as the model number. If you're unsure, please& email us& prior to ordering, and we'll double check for you. **
Online Appliance Parts can supply a complete range of replacement parts for Simpson Appliances. (the Simpson brand is owned by Electrolux). If you are unsure whether this part is the correct one for your model, please email us. We're happy to help.
May be known by other part numbers including: 1687226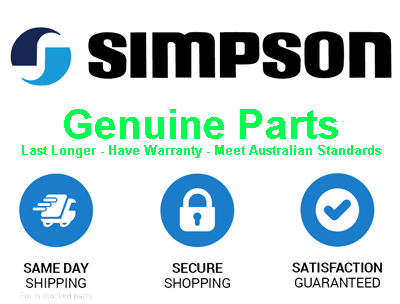 Suits Models: WWT1020A, 91304117301, SWT1023A, 91304113801, SWT9043A, 91304113701, SWT1043, 91304113601, SWT9043, 91304113501, SWT8063E, 91304118100, SWT9542, 91304112400, SWT8542, 91304112200, SWT7542, 91304112100, 913041060, 913041064, 91304105802, 91304105901, 91490024200, SWF85561, 91490028900, 91304105800, 91304105900, 91304106000, SWT754, 91304106100, 91304106400, 91490024201, 91490028901, 91304106401, 91490037100, 91490037200, 91304105801, SWT801, 91304108100, 91304108101, 91304108200, 91304108201, 91490044100, SWT8012, WWT6041, 91304112500, SWF85562, 91490043700, SWF10732, 91490043600, SWT1012A, 91304112700, SWT8542A, 91304112800, 91304112201, 91304112401, WWT8011, 91304112601, 91304106001, 91304112701, 91304112801, 913041058, 913041059, 91304108102, 91304108202, 91304112802, WWT854, 91304117000, SWT1042A, 91304116900, SWT5542, 91304111900, SWT6042, 91304112000, SWT8043, 91304113400, 91304113500, 91304113600, 91304113700, 91304113800, WWT8040, 91304117200, 91304117300, 91304112600, SWT554, SWT951, SWF10761, SWT954, SWT604, SWT704, SWF10832
Related Products