Part Number 410089P Strike Fisher and Paykel Dryer GENUINE Part Appliance Spare Parts online
Fisher and Paykel also provide Haier and Elba parts, and some parts may be cross-compatible.
Online Appliance Parts can supply a complete range of Genuine Fisher & Paykel Spare Parts. If you can't find the spare part you are looking for, please contact us and we'll be happy to help you.
Front & Rear Venting Door Catch.
Suits all compact dryers using door part numbers 427225P & 427420P. For screw that holds strike/catch in place see part number 611977P.
Suits some Hoover machines as well.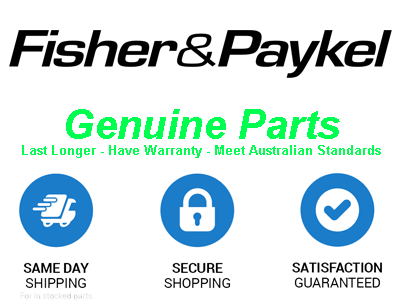 May be known by other part numbers including: 1618841, D322, 410089, DF003, FP410089, HD041
Suits Models: DE45F56EW1 (93104-A), DE35F56AW1 (93101-A), AD55AU 93214A, AD39AU, DE40F56 (93212-A 1), DE40F56 (93188-A 2), DE45F56 (93104-A DE45F56AW), DE45F56EW1 (93108-A), DE50F56E (93218-A), DE50F56A (93234-A), DE50F56A (93216-A), AD53U, ED56AUFP, AD55AU 93214B, ED56, AD39U
Related Products