427225P Dryer Door Rear Venting Fisher Paykel AD AE
Dryer door, rim only. Does not include window or door catch/strike.
Suits most rear venting Fisher and Paykel dryers. Will not suit models: AD39 and models beginning with DE35, DE40,DE60 and DEIX1
Related parts sold separately:
Window 427791P
Catch/strike 410089P
Note if wanting a door for an older model (typically over 10 years old) that has the door switch mounted under the hinge cover, the door switch kit will be needed and must be fitted by a qualified installer.
See part no 427919 for door switch kit.
Also when fitting the door to the older model dryer the breakaway plunger located on the inside top middle of the door will need to be removed.
Hint, newer dryers have a small cut out in cabinet where the door closes. It is located in the top middle and corresponds to the plunger on the door. If your dryer does not have this cut out it is an older model.
Online Appliance Parts can supply a complete range of replacement parts for Fisher and Paykel Appliances. If you are unsure whether this part is the correct one for your model, please email us. We're happy to help.
May be known by other part numbers including: 1654553, 1547189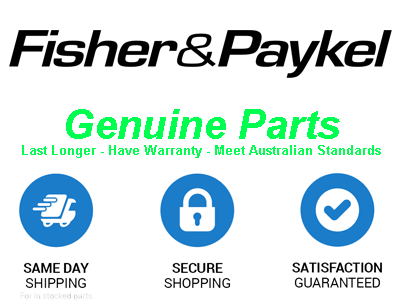 Suits Models: AD52, AD55 - 93214-A, DE45F56AW1 - 93008-A - 93104-A, DE45F56EW1 - 93010-A - 93108, DE50F56A1 - 93216-A, DE50F56A2 - 93234-A, DE50F56E1 - 93218-A, ED54, ED55, ED56AU, ED56 - 93158-A, 93158-B - 93215-A - 93215-B, ED57 - 93111-A, ED56AUFP, DE50F56A (93234-A), DE50F56A (93216-A), AD55AU 93214B, ED56MRTAU, ED56, DE45F56EW1 (93108-A), ED54U, ED50, AD39U, DE45F56A (93008), ED57, AD53U, ED55-U, DE45F56 (93104-A DE45F56AW), DE50F56E (93218-A), DE45F56EW1 (93104-A), AD39AU
Related Products